November 12, 2016
Russ Mawby: At 88, Still 'Only People Are Important."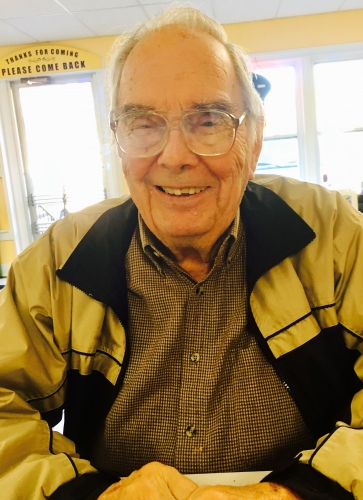 RUSS MAWBY: AT 88, STILL BELIEVES 'ONLY PEOPLE ARE IMPORTANT'
by jim richmond
As with every Friday, I drove to Augusta yesterday to have lunch with my mentor of 40 years and, candidly, the person I cherish most outside my son and grandkids.
His eyesight, hearing and memory are fading a bit at 88, but he still has the intellectual sparkle and interest in people, in life, that draws people to our table at Queen's Cupboard (now Dandelion Cafe) near Gull Lake.
They, too, have memories of him helping so many, in so many ways, over his long lifetime.
A quiet leader as CEO of the Kellogg Foundation for a quarter century, he guided the Foundation is supporting the birth of the modern day community college movement, the professionalization, financial and career advancement opportunities of nurses, rural development in Latin American, community development in Appalachia, mainstreaming of handicapped children into regular K-12 schools, efforts to end apartheid in South Africa. So much more.
Here in Battle Creek few knew, because he was a thoughtful leader and good listener, operated by community consensus, with an open door and often answered his own phone -- in spite of giving away $250 million a year worldwide.
He -- more than anyone -- was the energy, the visionary behind so much:
-- merger of the city and township,
-- $100 million redevelopment of the downtown,
-- Binda Park Zoo,
-- Battle Creek Community Foundation
-- Linear Park system,
-- Kellogg Community College,
-- Kellogg Arena,
-- Merger of the hospitals,
-- Revitalization of Leila Arboretum and its Children's Garden
Today, our lunch conversations are lightly peppered with family news, national political developments, in a warm, comfortable setting born by many shared experiences and, if I might say it, love for each other.
The 90 minutes with Russ are the highlight of my week.
I cherish each minute, as corny as that might sound..
Because we never know how long we have on this Earth and in this great land, and great little community, of ours.
Throughout his lifetime, Russ would often say, "Only people are important."
That's a pretty good way of measuring a lifetime.