January 14, 2017
A 'Ride Along' with Officer Rabbitt No Fairytale
By Jim Richmond
No, the above title might sound like a Grimm's Fairy Tale book title, but it had nothing to do with a bedtime story, nor tucking a four-year old under nighttime covers.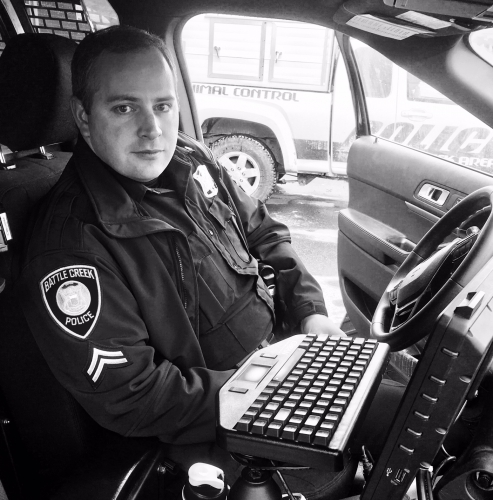 Instead, it was a bit gritty and "grim" at times, a four-hour "ride along" in the late afternoon last week with Battle Creek Police Officer Chris Rabbitt, as he drove his assigned area on the lower East side and Post Addition of Battle Creek.
As a ride along 'citizen guest', I still had to wear a "bullet proof vest," and while our conversation was friendly, it was mostly about business and during business.
Peppering Officer Rabbit, 34, at times about background and family, he never took eyes and ears off the road and the laptop computer mounted next to his steering wheel.
He grew up in Battle Creek and is a 2000 St. Phil Academy graduate who completed a 17-week law enforcement program at Kalamazoo Valley Community College.
He and his wife lived in South Carolina for a brief time, where he also worked in law enforcement, but wanted to be closer to their family in the Battle Creek area.
So they moved back, today have three children and his wife teaches advanced placement courses at a Battle Creek area school.
He stopped when we started to pull away from the downtown Battle Creek Police headquarters, went back in to get a supply of NARCAN, an antidote to the scourge of drug overdoses, ER visits and even related deaths plaguing Battle Creek right now.

"We get drug calls several times a week," Rabbitt said. "A few days ago, the drugged out boyfriend failed to call police in time. His overdosed girlfriend was dead by the time I got on scene."
It's these kinds of contacts, and domestic violence calls, that are often most difficult, he added, "perhaps because they remind me of my own kids."
Rabbitt slowly weaved his way through the neighborhoods, casually half waving to people on the street, letting them know, he said, that the police are a positive presence.
But during our "ride around" together, he also responded to a domestic abuse complaint, issued a ticket to a driver who blew through a stop sign, and made several other stops about drivers over the speed limit or not in possession of their car registrations papers, which is required.
Rabbitt wasn't wearing a body camera, but with almost the same result: the audio discussion between him and each engaged citizen was recoded, and the dash camera on the police car was positioned to give a clear visual account and taping of the interaction.
"Is it tough being a cop these days with people more disrespectful?" I asked Rabbitt.
"You know, this many not be the usual, but what I really notice, and appreciate, is all the people who are now stopping thanking me for my service," he said. "You give people respect. You get respect."
Chief of Police Jim Blocker told me, however, the explosion of social media – instantly available over the Internet -- sometimes accurate, sometimes theatrical, staged, confrontational – is having a wearying down impact on police officers and law enforcement recruitment.
"I tell our people (police) that we have been guilty of stereotyping ourselves. No doubt about it. But we have to 'lean into the problem' by talking with each other, and by dealing with it from both the police and pubic perspectives," he said.
There's a challenge recruiting young people to law enforcement careers, especially women and people of color, because of the social media uproar and negativity about police work right now, he said. But Blocker sees the glass half full, not half empty.
It's a priority for him.

We're doing lots of things to change and improve, and be more transparent. And I'm very proud of our people," Blocker said, signaling perhaps a bit impatiently that the phone interview was about over.

I paused, and thought what the hell about the question:
"Chief, I went through the police building waiting for Officer Rabbitt. The place looks terrible. Out of date. Worn out, chipped paint on the walls, old metal desks. How can you ask people to work here? Especially the stressful work they do."
Chief Blocker said the building is 46 years old. It looks 90 years old.
"But we're excited about the new police headquarters that will soon be built across the street. Financing seems in place. We could have the new facility ready in 18 months," the Chief said.