December 31, 2010
The Cisco Kid is in Battle Creek, Michigan USA. Nearly 60 years after his TV debut in the early 1950s.

I watch him some evenings. Just as I did as a nine year old.
Like The Lone Ranger, Cisco Kid always captures the bad guys and whows the ladies.
Unlike the Masked Man, who today seems a bit stuffy and even condescending, Cisco Kid still has a sense of humor, natural acting ability, and a good time with his sidekick, Pancho.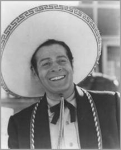 Viewers can count on a joke, and the famous "Oh, Cisco!", "Oh, Pancho!" at the close of each episode.
In real life, Duncan Renaldo was evidently as nice a guy as the one he played on our tv sets, according to Internet and print articles about his life.
He also had a secret – one that would get him in hot water, even today.
Renaldo was an illegal immigrant from Spain.
Born in 1904, he never knew his parents. He came to the U.S. in the 1920s, working on a Brazilian coal ship.
He overstayed his 90-day visa, and was arrested in the 1930s and threatened with deportation.
U.S. President Franklin D. Roosevelt eventually granted him a pardon.

In 1928 Renaldo started making films for MGM. His career soon dimmed when he became the 'Cisco Kid' in a 1945 film series that eventually wound up on television.
Along side Pancho (Leo Carrillo), the Cisco Kid won the day -- usually without drawing his pistol.
According to accounts, The Cisco Kid was wildly popular in his day -- among children and adult viewers.
The television series ended in the mid-1950s. (By that time, Renaldo was 51 and Carillo approaching 80 years of age.)

Historical photographs available on the Internet recall famous visits to county fairs and company-sponsored picnics by Renaldo in the early 60s. That was how he made his living after the movie and tv lights went out.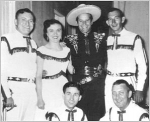 With grace and good fun, Renaldo posed with local groups who remembered and loved his style and his smile.
Duncan Renaldo died in 1980 of lung cancer.
We could use a few more Cisco Kids.
"Adios, Amigo!"
"See you soon!"
"Ha!"
October 09, 2006
Autumn is my favorite time. Bright color of the leaves. Chill in the air. The innocent enthusiasm of college football. Halloween fun.
But it's also a bittersweet season.

Each year, as red leaves turn to yellow, fade and fall, I'm reminded of the story about the little girl, losing her Mother to a rapidly advancing and incurable disease.

The doctor, and the little girl's father, try to prepare the child for the loss.

"When will my Mommy die?" the child asks the doctor, who replies: "When the leaves begin to fall."

Six months later, in mid-October, the father looks out the window of their home.
There, in the front yard, is the little girl, trying to paste fallen leaves back on the Maple tree.

Of course, we can't paste leaves back on a tree. Any more than avoid death of those we love.

Still, at the end, we have our memories to cherish.

Dad shining his shoes Sunday night in preparation for the work week.

My tiny, Irish mother doing the family wash by hand – with crooked arms broken in childhood.

Yes, I remember.
When autumn leaves begin to fall.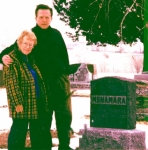 Jim Richmond with his mother at McNamara Family gravesite in Atchison, Kansas, USA, shortly before her death in 2003.
September 26, 2006
"Hello, Jimmy," the frail old woman in a bathrobe, said from her wheelchair, reaching out to accept the flowers I'd brought her.
It was a visiting room at a retirement home for Catholic nuns in St. Louis. About 12 years or so ago.
I'd called ahead to arrange the visit, with my former kindergarten and 4th grade teacher.
Sister Antonita Maria looked so different. It had been nearly 40 years since I'd seen her at Our Lady of Perpetual Help School in Kansas City.
In those days, she'd worn the long black, wool "nun's habit" with starched collar that hid everything but the face.
Sister Antonita Maria had a natural smile, a generous attitude, and lovely singing voice.
She must have been fairly young when she taught me, my equally unruly twin brother Johnny, and others in the 4th grade.
One day during the middle of class, she suddenly got up from her desk, rushed out and slammed the classroom door behind her.
I tipped toed to peek out the door. Sister Antonita Marie was standing in the school hallway – sobbing.
She was usually composed and cheerful. For some reason she did not elicit the moderate fear we had of the nuns' discipline. Perhaps she didn't carry the wooden ruler, like others, making the rounds between desk rows at test taking time.
The nuns wore a large crucifix and Rosary beads on their habits. We would listen for the sound of clicking beads approaching from behind us.
It was the 1950s. The St. Joseph order of nuns led a restrictive lifestyle. And they had to travel in "twos" whenever they went outside the convent, school and church area.
My Mom would call the convent some Saturdays with an invitation. 'Would Sisters like to take a Sunday ride and stop for ice cream?'
If the answer was "yes," my Dad would spend Saturday afternoon washing and waxing our 1948 Plymouth in preparation for the next day's outing. It was considered an honor to have the Parish Priest or the Sisters in your home -- or your car.
And here, five decades later was Sister Antonita Maria – perhaps in her late 70s, and in a retirement home.
She'd had diabetes, with one leg amputated, and sat uncomfortably in the wheelchair.
"How is Johnny? Do you two get along any better?," she asked with a bit of a smile.
Driving on to Michigan and home after the visit, I wondered if Sister Antonita could have recalled such details about two little boys, among the thousands she taught during her career.
There was nothing special about the Richmond boys..
The "Sisters" were special -- for those of us growing up Catholic in the 1950s.
September 08, 2006
Tom Liston still has his "glory days."
Not the glory days of high school in 1962, when he was the De La Salle Academy's star basketball center, baseball pitcher and the tight end who caught the winning touchdown against arch rival Rockhurst High School in the waning minutes of the senior-year game. And could date almost any girl in Kansas City.
Not his later glory days of national news media attention and big money contracts as a professional baseball player with the St. Louis Cardinals and other teams.
.
Liston's real glory has little to do with such things.
In 1961, my brother Johnny, and I were kicked out of Rockhurst High School in Kansas City at the end of our junior year.
The Jesuit order of priests ran Rockhurst -- an order admired and reviled over centuries for its love of the intellect, power, politics and world missionary work.
As with most things, the Jesuits were matter of fact about our departure from Rockhurst High School. We were gone, they told our distraught mother, because of marginal academic performance. ( I still think we also didn't quite fit the preppy "Jesuit" persona as two Irish kids from an inner city parish.)
It wasn't easy changing high schools at the end of the junior year. But we were accepted at De La Salle Academy, a Christian Brothers school with a good reputation, and a diverse student body.

We were welcomed by the Christian Brothers, and by members of the 1962 De La Salle Senior Class as if we'd been there all four years.
And 'class big shot' Tom Liston -- with every reason to ignore us -- did just the opposite. He went out of his way to be friendly and helpful in a low key way.
From C-minus students at Rockhurst, the Richmond brothers graduated with honors at De La Salle Academy in 1962.
Last week, Johnny (now a successful hospital president) went back to the 44th reunion of our DeLa Salle graduating class. There were about eight there who'd graduated in our class.
Among them was a different Tom Liston – someone my brother did not at first recognize, and who candidly talked about his life of alcoholism and drug addiction after the glory days of national television and major league baseball ended in his late 20s.
Liston had recently moved back to his old St. James Parish home in Kansas City.
"If you saw him on the street, you'd probably think he was homeless," my brother wrote sadly to me in an email today -- Liston's once impressive 6'-5" frame evidently bent over, his handsome, chiseled good looks of high school no where to be found in a prematurely aged face.
Talent, fame and fortune can be wonderful gifts, or difficult burdens over a lifetime.
I choose to remember the Tom Liston who never let athletics or popularity get in the way of being a thoughtful, nice human being.
I bet, if you think about it, there're a few Tom Listons in your own lifetime.
----
* Name Changed
June 12, 2006
It was Thursday, April 15, 1982. Along with about 250 others, I'd just finished lunch at the White House. It was the annual Volunteer Action Awards, hosted by President and Mrs. Reagan.
What I've remembered most about the luncheon was not the menu, the Marines marching in The Colors, or even meeting the President.
It was what I overheard as we filed out the front door of the White House after the luncheon.
This attractive, matronly (even back then) woman with bright white, bouffant-style hair was at the door. It was the Vice President's wife -- Barbara Bush.
As we walked by, she half-whispered to a minion: "Just keep them moving!"
So today, I wasn't too surprised to read what Mrs. Bush had to say on visiting the hurricane refugees in the Houston Astrodome.
"What I'm hearing, which is sort of scary, is they all want to stay in Texas. Everyone is so overwhelmed by the hospitality," Mrs. Bush said. "And so many of the people in the arena here, you know, were underprivileged anyway, so this is working very well for them."
*Just keep them moving.
------------
* Complicated problem. Three months later, New Orleans evacutees had been implicated in 19 Houston homicides.

>
April 08, 2006
"You little shit. Where've you been the last three days?"
I was always a bit surpised at the colorful language. My devout Irish Catholic Mother would normally no more curse than miss Sunday Mass. Except when her children did not call or drop by.
Her family was her life – a stay-at-home mom and wife, the type common to, and under appreciated in the '50s and '60s.
As she grew older, and my Dad died, she waited by the telephone for her three children – all living across the U.S. – to call.
We did not fully appreciate how much her universe, her life, was shrinking as we moved pell mell into our own middle adulthood.
She kept scrapbooks on each child, photographs, newspaper clippings, and school report cards – some that made The Richmond Twins look like The Class Clowns...or worse..
We would smile and glance at each other when Mom pulled out this box of memories.
Today, I understand her love and intensity. I feel it for my own grown sons..
Each telephone chat has value..
Yesterday, I visited my oldest son and his family. They've bought their first home, and are busy removing old wallpaper, replacing toilets, and juggling a two-career family.
We ate sub sandwiches on a card table in the dining room.
Driving home on ice slick highways, I realized my son and I had "connected" most in recalling shared memories and friends.
Time and attention are the greatest gifts.
.
.
Harry Chapin captured that in his 1970s lament,
… My son turned ten just the other day.
He said, "Thanks for the ball, dad, come on let's play.
Can you teach me to throw?" I said, "Not today,
I got a lot to do."
… I've long since retired and my son's moved away.
I called him up just the other day.
I said, "I'd like to see you if you don't mind."
He said, "I'd love to, dad, if I could find the time.
You see, my new job's a hassle, and the kid's got the flu,
But it's sure nice talking to you, dad.
It's been sure nice talking to you."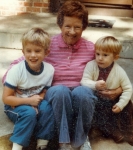 Grandma Richmond, Josh and Scott, '80s
March 05, 2006
"Don't Ask. Don't Tell."
I was kinda releived this past week, to see that the "Don't Ask. Don't Tell" nonsense about gays serving in the U.S. military is going to get resolved.
I served on a U.S. aircraft carrier off Vietnam for three years in the last '60s. Never got propositioned in the head or the shower.
The big worry was all the lunkheads who sniffed glue out of 10-gallon cans and then tried to install Sidewinders or 500-pounders under the wings of an F-4 Phantom.
In 1982, only 32 percent of Americans were willing to accept people who were gay and openly practiced a gay lifestyle – today that number is closer to 60 percent.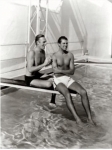 Today, most Americans care less and less about sexual orientation.
Its taken us a long way and a long time. Randolph Scott can take off his spurs and chaps. And Cary his tux and evening cane.
So they shared a Hollywood beachfront home for 12 years?
We don't much care if neither were saints.
We can remember Grant in North by Northwest, with a real Saint – Eva Marie.