December 29, 2019
PASSINGS ....
PASSINGS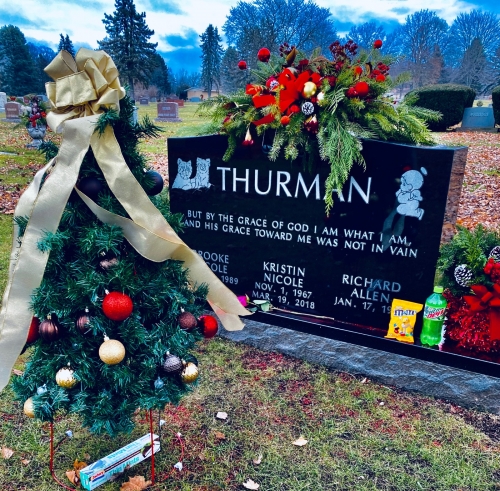 By jim richmond
Like clockwork, the middle aged man drives slowly up to this grave, as I walk past in Memorial Park cemetery many days for more than a year.
He stops briefly, as if saying in front of the grave: "Dad loves and misses you"
The grave decorations break all the decoration "rules" of Memorial Cemetery. But staff never touch or trash these ornaments. That are tasteful and changed often
There is something profound and unusual about this man, this grave, his dead teenager.
Many, perhaps most of us, just internalize our grief, our longing, our fun memories of a dearly loved one now dead. Thinking of them suddenly, often, reminded….
Today, there was a beautiful little Christmas tree with gold silk sash, an elaborate red and green wreath on the grave.
A small yellow package of M and M candy
A green unopened bottle of Squirt soda
And a thin, white carton of chocolate covered mints.
A young person's death brings trauma that never goes away.
But a better place for having been in our lives, in that place and time.
I meander on my Memorial Cemetery walks….but they always take me by and for a small prayer, those or their who I knew, passed young or old.
Most of all I remember the memories of time shared with them and their families: Nichols, McCann, Laws-Clay, Adams, Ptacin….others
I pray, hope the young father with lost daughter can move on…… But if not, may his visits bring happy memories, love, as well as sadness
It is never easy for any of us.