January 16, 2020
"I Have Some WONDERFUL SALMON!"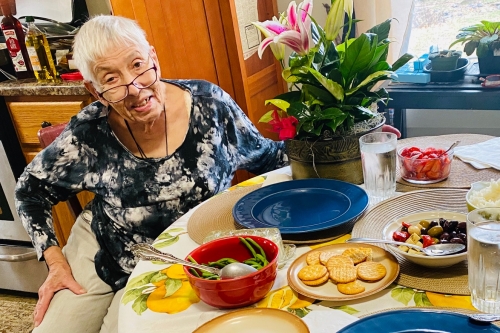 Claudia:
"I have some WONDERFUL Salmon!"
photo and copy by jim richmond
Claudia is 88. Lives alone in a tiny, bit ramshackled but comfortable and cozy house in Marshall, Michigan.
We got to know each other about 8 years ago. I worked at Leila Arboretum in Battle Creek. She was a volunteer.
We became friends, shared personal stories, liked each other.
Her husband died 4 years ago, and she moved to the tiny house in little Marshall, 28 miles or so east of Battle Creek.
With her overweight dog "Lincoln" and where – thank you very much – at 88 Claudia still walks her dog, cooks, gardens, in spite of the usual aged physical limitations,
She quit volunteering at Arboretum shortly after losing her husband.
And the doctor and State of Michigan took her car license away – getting a lift with Claudia driving had been like riding in a corvette that had lost its steering wheel.
Since her move, I've called Claudia every four or five weeks, often drove over to Marshall, and we'd have a nice lunch and visit, or I sometimes have taken her to the airport, the bank, grocery store.
Now, she calls "Dial A Ride". And gets around just fine with her walker and has support from a nearby son and from a caregiver that comes in twice a week.
No cry any tears for Claudia Crawford.
She keeps
moving …. last year went to Ecuador with one of her sons for three weeks of bird watching. Or is in Chicago. New Orleans.
My phone rang last week: "Jim, this is Claudia," she exclaimed loudly, a bit deaf. "I HAVE SOME WONDERFUL SALMON. Come over for lunch next week. You like salmon, don't you?" she said, hanging up with a "See ya."
"I love salmon" I lied.
Before lunch today, I stopped in Battle Creek at Plumeria (thanks Elisha Hodge) and brought Claudia a lovely flower bouquet.We had a great visit.
"Next lunch is on me, "I said. "We'll go to Shuler's Pub!"
She replied, "Oh, I'd as soon have a good hamburger somewhere. You know the kind – not one of those FAT ones with too much meat."
She's looking forward to spring. Working in her yard and garden. And using her walker to take woof-woof Lincoln on walks.
Walker or no walker
And I'll see her again soon.
Isn't that what friendship, and aging, are all about?
Even when you don't like salmon.