February 20, 2019
A 'MAN OF FAITH'?
"Are you a Man of Faith?," she asked after he'd driven 138 miles for a first date, a few weeks of emails, phone conversations, a social media exchange when this area of inquiry had not been mentioned.
She ... a Retired RN, quick witted, engaging ....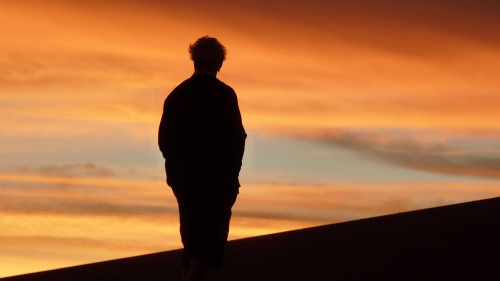 They walked the small town, and University campus, in Indiana, where she lived. Watched a university track meet. Toured The library. Eat lunch in the three-tiered appealing student center surrounded by youth, their talk and laughter.
Afterwards, sitting in her small, ranch style home, they chatted about their lives. Beautifully dressed in a casual long black dress that emphasized her thin face, unruly white hair, thin frame, and bright expressive eyes.
She described shock about her younger sister, pointing to a nearby family portrait, who'd been killed with a shotgun in a kitchen by her estanged husband, after separating, and when he learned she had found another on the Internet.
"It happened just up the block here," she jestured. "I had to handle all the details. It went on for a year. On and on. And then the TV coverage...." she said.
They talked. After her own 40-year marriage, ended eight years ago by "boundaries broken," she said without explanation.
"I'm not the crying type, about any of this, " as her eyes teared up.
She suddenly asked: "ARE YOU A MAN OF FAITH?"
He was near speechless....surprised, not wanting to give the 'wrong' answer.'
He asked her to define.
"Well, what happens from here," she jestured with her right hand, through and after here, " she motioned with her left hand, like holding thread during a darning process.
"I'm an agnostic," he replied. "Not sure about a God, an afterlife."
"Also, a man of other faith," seeing her face harden. "My faith is in the goodness of people, in change. I'm always open to learning, perhaps even 'faith' in the way you mean. "
A curtain came down across her face.
At the door, they exchanged a lingering hug.
"Shall we see each other again?," he half joked, skeptically, turning back while opening his car door.
"You know me!," she said, "I think about everything."

He thought that seemed unnecessary.