August 01, 2017
Niko, 'The Wonder Dog,' ...
NIKO, THE 'WONDER DOG,' THINKS
HE 'OWNS' LEILA ARBORETUM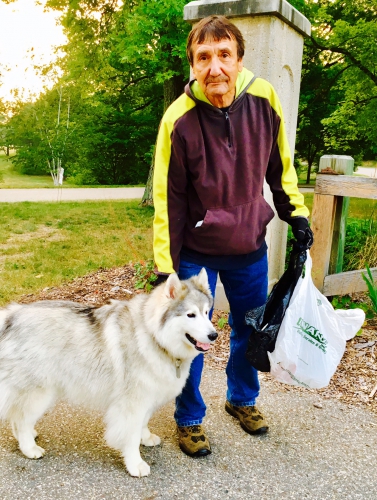 Barely daybreak today, but Terry Major and his aristocratic Siberian Husky, "Niko," are already busy in their day volunteer effort, walking the 72-acres of Leila Arboretum, picking up trash, left behind by Arboretum visitors.
Last Saturday, the Arboretum had more than 6,000 visitors for the Leilapalooza Music Festival, and Terry said he and Niko spent nearly 5 hours picking up trash Sunday morning, and 2 hours Monday.
Leila staffer Jim Richmond, who walks the Leila 1-mile loop most mornings around 6 a.m., said Terry and Niko have been volunteering their daily trash pick for more than 5 years, and Niko has grown to think he "owns the Arboretum and considers its home."
Recently Richmond asked Terry and Niko to walk up to the Leila office for a minute, so he could get them a supply of large trash bags.
"Niko came right in (the office), and proceeded to visit every room. He went upstairs to check things out, then the first floor and then the basement. I guess he felt we were doing a good job keeping the office straight," Richmond said, smiling.
For such a large, and in some ways imposing animal, Niko knows no enemies, everyone is a friend for him at Leila.
"He rushes over to me, runs between my legs, then sits down for petting," Richmond added. "I call him Niko The Wonder Dog."
Man and his dog are also wonderful volunteers.
Terry Major is a "major" reason Leila looks so spanking clean and welcoming for hundreds, and sometimes thousands, of daily visitors.
Say 'hi' if you see them in the Arboretum. They will.