July 26, 2008
In The Heat Of The Night
For the past two evenings, PBS's Travis Smiley has interviewed Sidney Poitier on a late night TV show.
What a wakeup. What a brain treat.
Poitier continues to consciously defy racial stereotyping.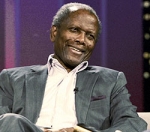 He's the first Black man to win the best actor Oscar and, in a 50-year-plus career, has starred in over 40 films, directed nine and written four. He's also a best-selling author of three autobiographies, including Life Beyond Measure.
Poitier came to the U.S. at age 15, from the Bahamas, and began his acting career with the American Negro Theatre. An activist and humanitarian, he has appointments as the Bahamas' ambassador to Japan and UNESCO.
Poitier is now 81. His hair has thinned and grayed. But his wonderful smile and hand mannerisms remain. And his serious, thoughtful stare can still melt butter, or racists as Poitier did in "In The Heat of The Night" 41 years ago.
For a balanced and revealing perspective on many topics, check out the transcript of the Poitier interviews at: http://www.pbs.org/kcet/tavissmiley/archive/200806/200806...