June 07, 2009
These Cemeteries Worth A Visit
"These Cemeteries Worth A Visit"


Two of my favorite places for walks, and just quiet bench time, are historic Oak Hill Cemetery, where everyone from Ellen White, C.W. Post, W. K. Kellogg to Junior Walker ("Junior Walker and The All Stars -- "Shotgun!" fame) are buried, and the relatively new Ft. Custer National Cemetery off Dickman Road in nearby Augusta, Michigan.

There is a German POW memorial and grave(s) site at the national cemetery. A line of German POW graves. German soldiers were prisoners at Ft. Custer in WWII from 1943 to 1946. More than half of the 26 buried here, were killed on Oct. 31, 1945 when the truck they were riding in....to do farm work...was hit by a train.

Across the cemetery road are more U.S. military graves, and a single bench near the tree line, that provides a wonderful spot for thinking or reading, or saying a prayer of thanks to our US soliders buried here.

I stop at the bench often on my walks....but also slowly meander among the U.S. graves...mostly from WWI, Korea and Vietnam......quite a few of the Vietnam vets buried here are younger than me. (Perhaps, one day, I will join my Vietnam Vet brethern in this ground. Not an unpleasant thought.)

But I wonder about all of them....their military service in the various wars. Their families. Their lives.


MARY T. BURLEY
Capt. U.S. Army
Korea
48th MASH
January 17, 1928 - July 20,2002.
"We Love You Mom"


Capt. Burley served as a nurse in one of the MASH (Mobile Army Surgical Hospitals) units, forward deployed during the Korean Conflict -- the same hospitals that the TV series and movie were based on.

There are so many told and untold stories in the two cemeteries.

But the national cemetery, and our US soldiers buried there, are special.

And, yes, "We Love You Mom."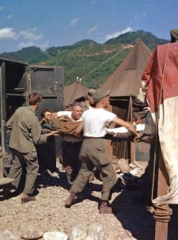 Actual MASH unit, unloading wounded US soliders, Korea, early 1950s.