January 10, 2010
Payback Time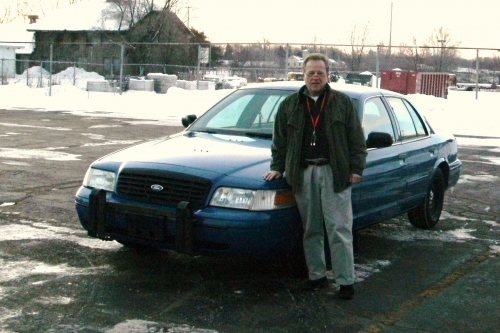 Payback Time.
A few weeks ago, my car died. A tiny, '91 Geo Metro. Two-seater. Convertible. 4 (yes, four) cylinders. Stick shift. With a bent front frame that made the front tires toe-in, and the lil' sweetie drive like a drunken sailor.
I'd had the car for about 4 months; bought from A Comedy King who left me less than chuckling, with all the things wrong with the car.
But that's not what this blog is all about.
See, I got this friend who's in the used car business – a shrewed guy and businessman, with a big heart -- and, he travels to Lansing, Grand Rapids and Northern Indiana several times a week for car auctions.
So I got a great deal from him on a '99 Ford Crown Victoria. Now this is not your everyday run-of-the-mill-used -ford.
This car has balls to the wall: "POLICE INTERCEPTOR" reads the chrome on the trunk grillwork. Heavy duty shocks, brakes, tires. And a 4.6 fuel-injected V-8 under the hood.
It's a "retired" light blue Michigan State Police Cruiser. You know the kind -- black trim and, best of all, those HUGE front and back, extended bumpers – as righteous phallic symbols as a police 38 special or a stun gun.
So, I've gone from having NO road respect; to almost having too much.
Cars slow down behind me and give PLENTY of room. Those in front suddenly start using their turn signals and stopping at yellow lights.
Maybe I should get a pair of those mirror-like sunglasses. And start practicin sayin things like: "Feeling lucky punk? Now do ya?"
Gosh, It's nice to suddenly have status. And feel respected. Isn't it? J
----------------
Author's Note: For those of you who live in southwest Michigan, USofA....and are looking for a QUALITY used car at the RIGHT price...from a dealer you can TRUST, send me an email at: jmadisonrichmond@gmail.com. And I'll share the name of my car dealer-friend. You won't go wrong!