April 24, 2012
"Just Keep Them Moving."
"Just Keep Them Moving…"
"President and Mrs. Reagan Request The Pleasure of The Company of Mr. Richmond…."
The fancy inscribed invitation was printed on heavy card stock, with raised lettering, and went on to describe the menu for the White House Luncheon, down to the California Sauvignon Blanc and petit fours.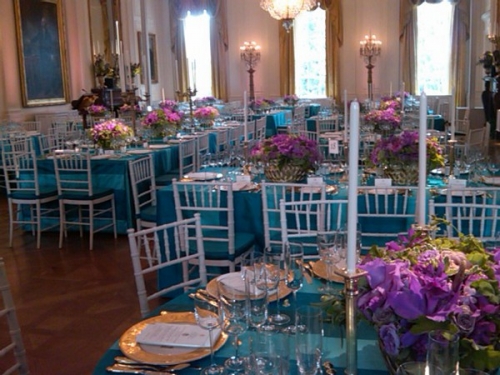 On the appointed day and hour, I joined about 150 other guests at the White House, for the annual Voluntary Action Awards luncheon.
In one corner of the East Room, where the event was held, was a reception line. We walked up to, were introduced to and shook the hands of Nancy Reagan and Barbara Bush.
Mrs. Reagan was still relatively young. But I had a strange, negative reaction to her ice cold hand, bright red lipstick and heavy white pancake makeup. This exHollywood actress and in photos very attractive woman – looked anorexic, almost unworldly – a pencil-then version of Yvonne De Carlo in The Munster's TV series.
Mrs. Bush was a dervish of gestures, a fro' of white hair ringing head like a halo.
We were seated at cramped tables of 8 in the East Room, and a U.S. Marine Corps Honor Guard marched in The Colors.
The lunch was a formal affair. I chatted with Senator Charles Grassley of Iowa, sitting next to me, in his first Senate term and loquacious over the unanticipated vagaries of constituent services.
Mrs. Reagan and Bush presented the Luncheon Awards. (No sign of their distinguished spouses.)
Afterwards, The First Lady and Mrs. Bush stood in the White House doorway, saying good bye and good day.
I was a bit overwhelmed, as a Proud American, as we waited to file out into the bright Washington sunshine and afternoon.
A lovely, thoughtful goodbye – a closing touch, special ending to a special day.
The departure line had slackened as it neared the door.
Suddenly, Mrs. Bush could be heard rather loudly instructing a minion behind her: "Just keep them moving."
Good thing The Gipper was not there...he'd a kept the line moving, but probably wouldnt have appreciated Barbara's push.
Mrs. Bush was never shy about calling 'em as she saw 'em.