April 17, 2013
City Water a Public Rip-Off?
City Water A Public Rip-off?
Like on TV's Dog The Bounty Hunter or Operation REPO, the Battle Creek Water Department agents can be seen many 7 a.m. mornings in Urbandale, flashlights at the ready in the dark, turning off City residents' water at the curbside, because of their overdue water bills.
(Truth is, I wouldn't want residents catching me either disconnecting their water, any more than Operation Repo snatching that 2003 Ford Escort from Car City that's in the driveway.)
But the real turnoff and shocker for all City residents – bill slackers and prompt payers alike – isn't at the faucet, but when we open our monthly City of Battle Creek Utility Bill.
Here is a real life, recent example.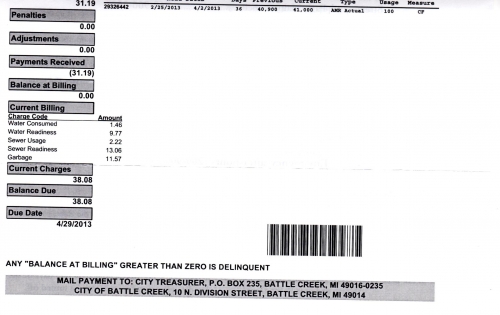 Total monthly utility bill: $38.08,
Actual Water and sewer consumed/used for the month: $3.68.
Then an additional $22.83 charge for "water and sewer readiness."
Maybe this readiness has to do with providing new flashlight batteries or orange traffic cones for the 7 a.m. City Utility Department Shock and Awe Squads.
Not to be labeled a naysayer, I'm sure there are good reasons why we should support City "water and sewer readiness."
Some might consider such support patriotic, like standing for The National Anthem or when The President enters the White House Press Room.
So, as the City perhaps searches for new "readiness" charges to tack on to our future water bills, may I offer a suggestion?
* The Dingo Ate My Baby Public Services charge
When we compared our City water bills last night, my next door Urbandale neighbor suggested:
* The City Police Alcohol Rehab Readiness charge
Now, now, I chided him: water or no water, trash in/trash out, we don't need to be trashing our local law enforcement.
I'd be satisfied with a moratorium on Utility Bill Readiness charges.
But, we all know it's tough these days to come-by five (5) City Commission votes for most anything.