June 04, 2013
"Nah, wouldn't look good in that red bandana"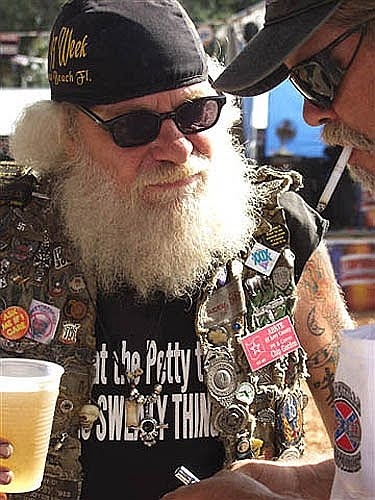 "I DONT LET NOBODY, NOTHING BOTHER ME"

Fifth in check out line early this morning at the Family Fair super on W. Michigan. Everyone is paying with their orange bridge/food stamp card. 'What are the odds on that?,' I think to myself.

Old, dirty, gray grizzled wanna be biker is in front of me. 'You have a nice day!,' the clerk says to him. 'Oh, I always have a nice day. Don't let nobody or nothin bother ME!,' he replies.

Walks out in steel-tipped boots, to his beat up old H-D, parkied illegally on the sidewalk outside the store door, jumps starts, and roars across the parking lot at about 60.
'Maybe I should go down to the Toeller Human Services Building and get me one of those bridge cards today, instead of to my little 3-day a week, part-time job?,' I think. 'Nah, I'd kill myself on that bike. And I wouldn't look good in that red bandana.'