July 16, 2016
Happy Days In Hippyland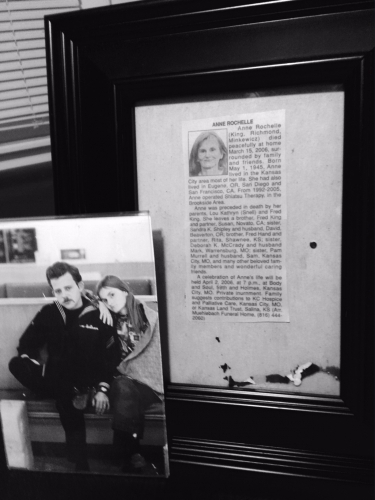 HAPPY DAYS IN HIPPYLAND
My exwife Anne would have just turned age 70.
Not long ago, a Kansas City cousin sent me a copy of Anne's obituary. She died in 2006 of breast cancer.
We were college sweethearts. She, sharper than I, graduated first in her class at a large regional university.
We married while I was on leave from the Navy and had a cool place on one of the rolling streets in the Twin Peaks area of San Francisco. 1968-71.
Janis Joplin lived just several blocks up from us, and she would whiz by in her psychedelic painted porsche, as we sat on the steps, with her then boyfriend, Joe McDonald, of the music group Country Joe and The Fish ("Don't Give A Damn, Ain't Going To Vietnam"), and marveled at Janis' drinking habits and capacity.
We would stroll down to Golden Gate Park on my free weekends, and watch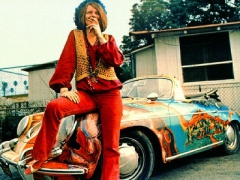 outdoor gigs by Joplin, Canned Heat, BB King, Cream, Jefferson Airplane.
Interesting times.
While I was in the Pacific, away on an aircraft carrier that was attacking North Vietnamese trails into the South, Anne met new friends in San Francisco.
When our carrier returned, she met me at the pier with another young woman, introduced us, and told me that while I was gone she'd realized she was gay,. We divorced not long after,
Over the decades we stayed in touch by phone or coffee shop visit about once a year -- I never completely getting over her.
In Kansas City during 2003 for my Mom's funeral, I was surprised when Anne showed up at the funeral and then lunch afterwards. We chatted briefly.
It was a terrible snow storm, and I was anxious to get on the road back to Michigan. I cleaned my car windows off, got in the red VW bug,to start the trip, when I heard a knock on the car window.
It was Anne. She got in the car.
"Jim," she said, "do you think we might try to start all over again?" (I didn't know she was seriously ill.)
"No,it's too late, and times are too different for that," I said to her, not unkindly, but thinking about the 33 years that had past, and the way we parted as a couple emotionally on that Navy pier.
She opened the door and got out of the car. It would be our last contact.
Calling her with a sudden urgent feeling in 2006, her sister answered. "Jim," she said, "Anne died yesterday of cancer."
Thinking back on that snowy evening in 2006, that brief chat in the car, I wondered what I might have said or done differently if I'd known she was ill. And perhaps needed my help or company desperately.
The question and the memory stay with me today.
But so, too, do the good times and laughs in San Francisco with Anne in '68-71. A very unique, short window of place and social change. And more than a little heartache and pain.
I hope, if there's a Heaven, Anne is happy, remembers me with affection -- and those pseudo hippy, happy times -- as I do her, and that chapter in our lives..
But I dont know anyone who has been able to go back and recreate the past. We learn from it,and move on.