September 08, 2016
What makes Jim Haadsma run....
WHAT MAKES JIM HAADSMA RUN .....
by Jim Richmond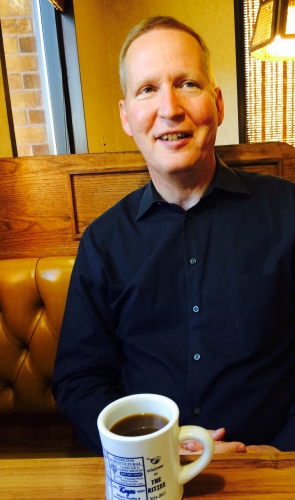 At age 58, with kids in or just finishing college, a busy law practice, plus a host of civic and church interests and commitments, what makes Jim Haadsma run so hard for the Michigan 62nd House seat, after his 4th term as Calhoun County Commissioner, and facing a financially well-healed opponent?
(The 62nd District includes Battle Creek, Bedford, Convis, Pennfield and Springfield.)
We were sitting one morning at Ritzee's restaurant on W. Michigan Avenue, and Haadsma was a bit taken aback by the 'run' question, pausing for a minute, then going back to restate, to massage his thoughts and his answer.
"It has to be my parents; both missionaries. I spent most of my high school years with them in Africa – Rhodesia, a violent time of civic war, when the Europeans and Africans were fighting each other. I saw my parents subordinate themselves to the needs of other people, to public service. And when you're around that as a young person, it seeps into your heart, spirit, values, and your sense of purpose."
Returning to the United States in 1976, Haadsma graduated from Michigan State University, attended graduate school at the University of Denver, earned his law degree from Wayne State University, and then practiced what he called "street law" in hometown Muskegon for three years, before joining the McCroskey Law Firm in 1987.
He runs the firm's Battle Creek office, specializing in workers disability compensation.
Haadsma says, yes, he feels the time pressures of busy personal responsibilities, career and civic engagements -- of "knowing what to keep in and what to leave out – it's always a challenge."
But what he hasn't and doesn't leave out, is a grassroots engagement and commitment to community, neighborhoods, residents, and needs.
All the energy he spends at civic events and activities is multiplied by the long-term canvassing, "you can't understand people's problems unless you dig down, visit with people, and not just at election time.
Laurie Sullivan, a northside neighborhood leader and former Battle Creek City Commissioner,
"I've yet to meet another individual who is so dedicated, so 'present' – physically and mentally – as a public servant as Jim (Haadsma). Approachable, compassionate, engaged. We couldn't ask for anyone better," Sullivan commented.
Many, many people who know Jim Haadsma agree.
I certainly do -- we could do no better than elect Haadsma in November.
(Note to readers: This is my personal blog. No money or any other form of compensation determines what is published on this site.)