June 12, 2017
"It's not you. It's me."
"IT'S NOT YOU, IT'S ME."
by jim richmond
If you live long enough, and are involved in enough serious relationships, a woman will one day give you the bad news about wanting to breakup by explaining, "It's not you, it's me."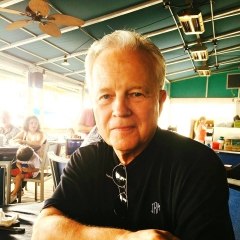 The first time it happened, I was relieved. After all she told me it wasn't MY fault, it was HER fault! Whew! Somehow less painful.
Talking with a male friend after the first experience, he laughed, "You fool! That's what women say to let you down easy!"
Of course, words can be deceiving whether spoken or written. Whether public or private. By people directly or on TV or the printed newspaper or book page.
We are more and more aware that personal discretion and personal discernment, and broad intellectual inquiry by ourself is necessary.
That discernment applies (outside of political news) most about books. Both their selection and reading.
A good example is that paragon, pinnacle of literary influence: The New York Times Review of Books (NYTRB).
It's always, (well 60 percent of the time), fooling me by giving good reviews to b-a-d books. Which I buy for my Kindle.
2016 was particularly a bad year for my NYTBR relationships.
The NYTBR Section let me down so many times, I started reading semi-trashy Preston, Child crime thrillers instead. Not "serious reading," but predictable. Like buying a Ford F150 instead of a Dodge F1500.
Here are the worst NY TIMES recommended clunkers from last year.
Or was it ME, not THEM?
Worst NY BR Books of 2016
1. The Zookeeper's Wife
2. A Man in Moscow
3. Hillbilly Elegy
4. The Six
5. Beneath A Scarlet Sky
6. The Dime
7. On The Move
8. The Black Widow
9. Proof of Heaven
10. Shattered
(To be fair) Best NY BR Books of 2016
1. When Breath Becomes Air
2. The Undoing Project
3. Valiant Ambition
4. Coming Apart
5. The Sympathizer
6. The Nightingale
7. Genius, The Life of Richard Feynman
8. The Fellowship: Frank Lloyd Wright
9. The Widow
10. Sharp Objects