August 05, 2017
Night Flight ...
NIGHT FLIGHT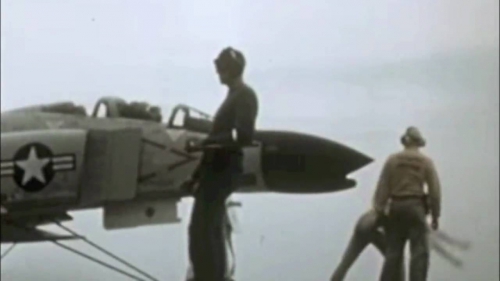 The Navy enlisted man interviewed the last F-4 pilot, fresh from a bombing run on the Haiphong ammunition dumps of North Vietnam, part of the US Air Force and LBJ's 'Rolling Thunder" campaign against North Vietnam targets.
The pilot had lost a wingman to an S-2 missile, distracted by a pair of Mig-15's set to engage the Phantom, and was still shaking, as he talked to the enlisted man, gulping a small white foam cup of day-old black coffee.
This would not be the story the enlisted man wrote, as editor of the carrier's morning newspaper, which would instead describe, half accurately, results of the night's flight ops.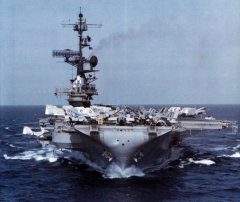 He finished the stories in his small cubicle, laid out the newspaper, with photos and a feature on a crew member from A-6 division, aviation supply.
The Captain liked to have crew features. Strike reports, if they didn't mention aircraft and pilots lost that night.
The Captain wanted the crew to feel good, while other U.S carriers' were beginning in 1969 to face inport protests against the Vietnam War by enlisted, and even a few officers.
The Captain would be up for Rear Admiral at the end of this deployment, the enlisted man knew.
Taking the newspaper's 8 dummy pages to the carrier's print shop, he waited for 3,000 copies to be printed, and then spread out with helpers to distribute to some 380 spaces in the carrier, from hanger deck to the Captain's at-sea cabin, along with the hot, humid, smelly crew berthing areas with their 6 racks high of sleeping enlisted men, then thru "officer's country" of small, two-person berthing cubicles, and finally to the mess deck.
He was older, at age 24, of most carrier enlisted crew, and solitary in his off-time activity and behavior.
Why hadn't he heard from her for 5 weeks?, he thought, climbing over hatchways and up metal ladders to the flight deck, now in pitch black darkness.
For after aircraft night recovery, the carrier had turned into the wind again, flight deck near empty as the huge ship, one of the oldest in the US Navy, plowed through South China's heavy seas at 26 knots.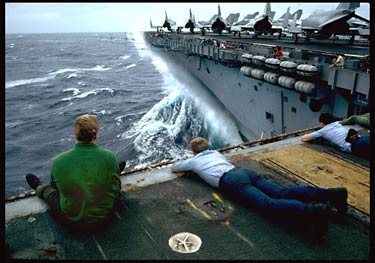 He liked to walk out, on the 3 football-fields-long flight deck, stopping near the very front tip of the carrier, then leaning into the cool wind, spreading his arms like wings, as if he was flying out and up over the huge Pacific waves that were crashing against the carrier's bow.
Then a loud speaker from the "island" bridge yelled he was to close to the edge.
And he was. On purpose.