November 27, 2017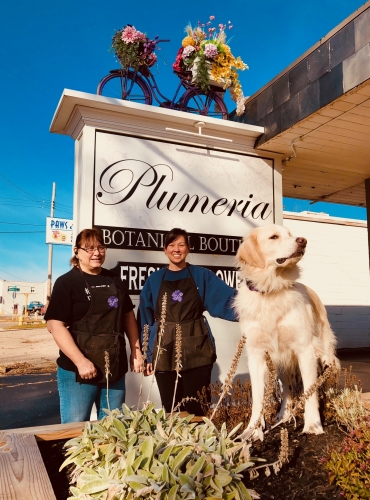 'Plumeria' Floral and Crafts' Turning
Local Woman's Dream to Reality
By jim richmond
Elisha Hodge was busy creating beautiful Holiday wreathes with red floral bows, when I stopped in this morning at her unique flowers, plants and gift shop, titled Plumeria Botanical Boutique, on Battle Creek's near west side, 1364 W. Michigan Avenue.
With help from her Mom Sandy and boyfriend Bryan, Elisha is literally turning a dream into a reality after two years of hard work: owning and operating her own floral, hand crafted decorations and crafts store.
And perhaps her friendliest, but also most observant business "partner" is constant companion "Bella," Elisha's nearly snow white Great Pyrenees dog, who readily welcomes customers, but also keeps a bit of protective eye on her dear Elisha.
Elisha's W. Michigan Avenue shop is a visual delight, full of unusual craft, art and planted creations by Elisha and local and Michigan artists.
Mom Sandy laughed, adding: "Elisha also runs a 'Botanical Intensive Care Unit'. Customers bring their plants in for Elisha's special touch and recovery."
She also keeps plants over the winter months for "Michigan snowbirds" who travel south, but might worry about the condition of their plants if left to a chance neighbor's watering, before they returning home to Michigan in the spring.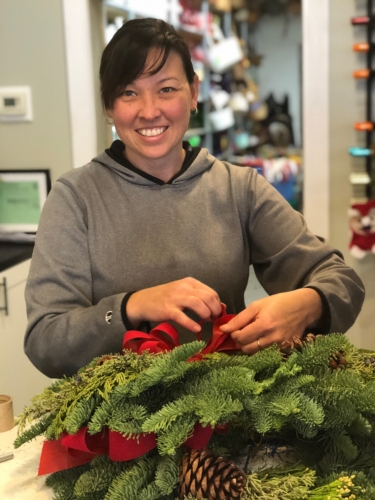 Elisha said she also enjoys designing, then delivering and helping arrange floral decorations for weddings and other family celebrations.
Hodge grew up in nearby Union City, Michigan, and spent nearly 20 years in banking – experience which, she said, has come in handy on the management side of Plumeria. She attended Kellogg Community College and has a bachelor's degree in art from Central Michigan University.
"Plumeria? Where did the name originate for the business?" I asked.
Picked from a range of suggested names by friends on Facebook, she replied.
(Plumeria plants (Plumeria sp), also known as Lei flowers and Frangipani, are actually small trees that are native to tropical regions. The flowers of these beautiful plants are used in making traditional Hawaiian leis.)
Plumeria. A nice, special Battle Creek place for that unique Michigan craft gift, planter or flower arrangement.
For information over the Internet: www.plumeriami.com and also Facebook. Or pick up the cell and talk with Elisha at 269.963.9499.
Help a local business. Get a great gift for someone.
And a local, talented woman working hard to achieve her dream.
**********************
This blog is by Jim Richmond. No compensation motivates his blogs and columns, just a love and interest in people making a difference in our lives and our community. Richmond welcomes input on his blog or Facebook columns: jmadisonrichmond@gmail.com