February 12, 2013

Sports Apparel Just Fun For These Two "Volunteers"
Americans spend more than $8 billion a year on sports logo apparel – 60 percent of them men and most have never set foot on campus or in the classroom of the university or college emblazoned on their chest, their undershorts, socks, and ball caps.

I've never been able to quite figure out the attraction of the sports clothing thing.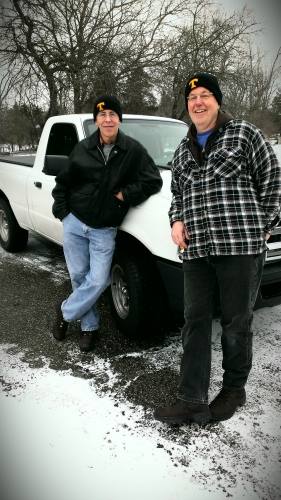 And the two guys I ran into today didn't help.
"Does that "T" on your caps stand for Tulane, Texas, Tennessee, or Tufts?," I asked Jerry Tillman (photo, right) and Gary Steiner.
They laughed, looked at each other liked I'd just asked how many pennies are in a nickel.
"We were traveling through Knoxville, it was cold, so we stopped in Wal-Mart," Jerry recalled, "looking for the cheapest cap in the store."
They paid $1.98 apiece.
And the Tennessee Volunteers gained two new fans in Battle Creek, Michigan.
Or did they?