August 13, 2018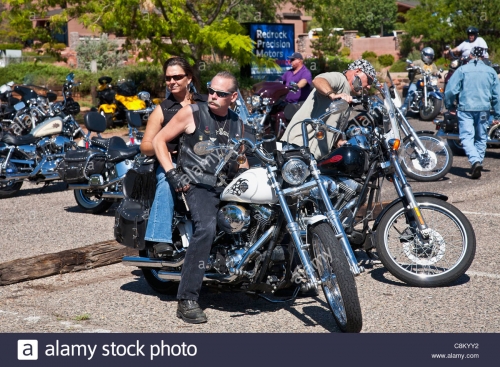 DA DOO RUN RUN
by j mcnamara richmond
Disaffected Harley riders with The Donald this weekend.
Driving up from South Bend on the back roads, I see hundreds of them.
Stretched in a line two blocks long to prevent cars from passing.
A black leathered, dirty red bandanna pied piper taking point, with rats behind him.
Traffic backed up three miles.
I think I'll get a Harley. (Oh, maybe just a 125cc Grom.)
I got some "creds" to join these swell squids:
Check:
1) Beyond age 65 and a bit overweight
2) eager to have a younger chick wrapping her arms around my leather jacket, smoking a dobbie
3) losing hair on the head and putting a foo on the face (under advisement)
4) stupido, my doo rag will protect me like a safety helmet
5) willing to wake the neighborhood with my Harley "potato, potato, potato" anthem, celebrating the size and frequency of my sex life
6) Convinced The Donald deserves a second term and a Nobel for his fight against Viet Cong exporters and traders in the People's Republic of China. (Under Review)
Were the Viet Cong in China?
I'd better tear off the "I ATE THE VIET CONG FOR LUNCH IN '68" sticker from my 2017 Ford Escape.
Betta dump the 4 wheels for a sumpa sooper 2 wheeled da doo run run ride.
What about u?
August 07, 2018
"All the girls remember you, Jack!"
(And so does Battle Creek)
Photo and copy by jim richmond
Breakfast this morning with long time friend, Dr. Jack Mawdsley, arguably one of the best Superintendents in the history of the Battle Creek Public Schools and retired Vice President for Educational Programming at the W. K. Kellogg Foundation.
A spry 89, Jack is sharp as a razor, funny, self-depreciating, and – most of all – in a very long love affair.
With wife of 66 years, Norma.
(But who wouldn't be, who knows the lady?)
Jack was home on week's leave, serving as a pilot with the Air Force during the Korean Conflict. "I was lucky," he said. "I flew all 50 of my missions over the skies of Mississippi, Alabama and Texas. (Not Korea.)"
"I asked a friend, 'Any girls I could take to the show while I'm in town?'" His friend mentioned Norma, who attended the same high school, but 4 years behind Jack. "I don't think she's going with the same guy anymore."
Jack called her. "You probably don't remember me," he said to Norma on the phone.
"All the girls remember you, Jack," she replied, agreeing to go to the movies that night.
Jack showed up at Norma's only to find Norma's sister and friend sitting on the living room sofa, waiting to check him out.
Norma and Jack walked out and got in the taxi to go the movie. The taxicab engine blew up, billowing smoke and fire, he recalled.
"We walked to the movies. Afterwards, I walked Norma home. And we held hands. I knew right then,this is the woman I want to marry."
Yes, 66-plus years later.
And the Mawdsleys are a well know and for many, never to be forgotten, couple and civic leaders in Battle Creek, having also raised two, school-teacher daughters who live in Holland and Traverse City, Michigan.
Photo Caption:

Dr. Jack Mawdsley (center) with friends and former Kellogg Foundation Colleagues, l to r, Jim Richmond and Laura Davis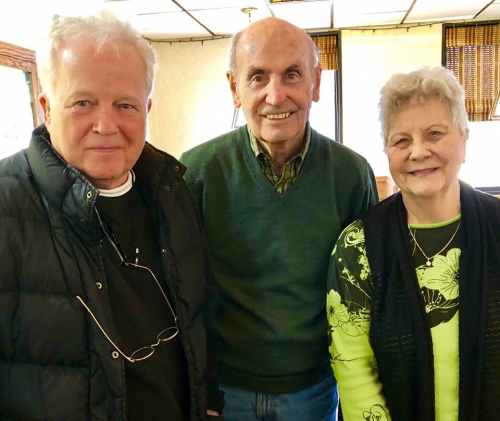 August 04, 2018
A BAT FOR BOBBIE
"How's Bobbie?," I replied to Eric Zillner when he asked to Friend me on Facebook the other day, surprised, thinking brother Bobbie was probably in prison or dead from a gang shooting.
I started working after school at age 13, taking three buses from all-boys De La Salle Academy to the Kansas City bottoms, where I worked for a wholesale frozen food company, three hours an evening and all-day Saturday.
Only about 5'1" and chubby, I was used to being mildly harassed and intimidated by other kids.
But Bobbie Zillner was our neighborhood bully, a terminator.
"Bobbie, he's now farming a plot down by Cape Girardeau, "Eric said about his older brother.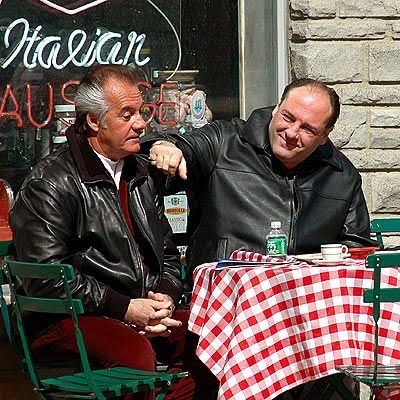 Bobbie, at 15 about 1957, drove around the neighborhood with abandon-in a beat-up black Model A Ford, dressed in loud suspenders, jeans, boots and smoking a cigar.
Trolling slowly for younger kids he could rob of their lunch money or after school newspaper carrier pay.
(Reader: see where this is going?
The last bus I took in the evening stopped in front of Bobbie's house.
I couldn't force myself to get off at an earlier or later stop.
Foolish pride before the fall.
"Oh, he won't be out there tonight," I tried to convince myself, and most evenings he wasn't.
Bobbie seemed to have radar, and he often tracked me down walking home after serving morning Mass on Sunday.
I never carried more than a buck or two on me, but that was big pocket money for a young kid in the 50s.
After about six months of this harassment, I decided to confront Bobbie one night at the bus stop.
He beat the hell out of me.
Both of my eyes were almost swollen shut, and a big purple lump on the side of my face.
"What happened to you?" my mom pleaded that evening.
"Got in a fight at noon, on the playground," l lied.
Snitches get stitches, and I had to live in the neighborhood.
"Hey Eric, can you give me Bobbie's address on the farm?" I wrote back on Facebook. "I might swing south to visit him — one of these trips I drive from Michigan to Kansas City to visit relatives.
 Bobbie would be 75 to my 73.
"Your brother and I have a lot to chat about," I laughed ...
Responding to Eric on Facebook, before deleting his Friend request.
Do I have that old souvenir team baseball bat from grade school in the basement?
I might stop and give Bobbie a present.
For old times' sake.
(Voice to text, while walking at 6 am.)