December 30, 2018
Random Sunday Thoughts: The NonFighting Irish, Gus and Call, Time For A Change
random sunday thoughts:
THE NONFIGHTING IRISH, GUS AND CALL, AND TIME FOR CHANGE
by jim richmond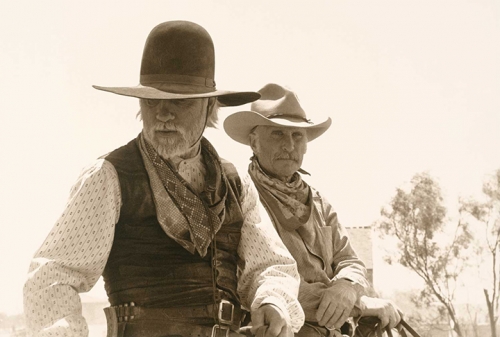 I didn't watch the Notre Dame loss to Clemson, 3-30 last night.
As Irish as I am, Notre Dame played a weak schedule and got into the final four only because of its brand. We knew what was coming:. the point spread before kickoff, Clemson by 13.
Area Catholic churches were reportedly packed with kneeling supplicants before game time: "PLEASE, TOUCHDOWN JESUS, JUST NOT ANOTHER ALABAMA EMBARRASSMENT! Make it close. Amen."
So, instead I finished Larry McMurtry's prequel DEAD MAN'S WALK, wrote after the three Lonesome Dove novels, and in reverse order introduced us to Captain Augustus "Gus" McCrae and Captain Woodrow F. Call, two famous former Texas Rangers, and to the end of what some perceive as a slightly more accurate account of early Western history in the U.S.
In the last several days, I turned the last page on Philbrick's MAYFLOWER; also on a contrarian historical account of WWII from the viewpoint of the Japanese, and another somewhat ambivalent work on Eisenhower's 8 years in the White House. (Better than we thought POTUS, built up military, hated Nixon, and probably deserves a D-Minus grade on Civil Rights.)
About a week's worth of reading wrapped up.
Not exactly topics on Fox Morning Friends, The View or The Five.
Tomorrow, pulling the plug on television. I've said it before. I MEAN IT THIS TIME!
I chatted with COMCAST/INFINITY for about 30 minutes the other day.
Not always nice people when you call to tell them "good bye."
They wanted my first born and proceeds of my 403b pension plan, to get out of their tv "agreement."
(Sorry, son.)
After my costly divorce settlement with COMCAST, will save about $70 a month. But it's not REALLY just about the money.
I have nothing but distain for current day TV, except cable programs like LONESOME DOVE, or reruns of THE SOPRANOS, THE WIRE, and THE SHIELD. (Why are shows so in love with the definite article?)
TV is permeated with overhyped sports, superficial news and sucks up your time quicker that a HOOVER vacuum or a donation pledge to disgraced WOUNDED WARRIOR.
I try to walk 3 to 5 miles a day, take photos, and read several books in a typical week.
Pretty boring life, huh? I love it.
Now about giving up that first born ….