July 27, 2008
In 1961, my twin brother and I were attending a rich-kids Jesuit High School in Kansas City. (Not that we were rich.)
One of my brother's buddies had been given a bright red Chevy Corvair by his parents. I got to ride in it on occasion.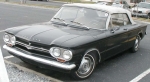 A rather strange car, I later found out, with an engine in back, along with the spare tire – and a propensity to catch fire and kill passengers – profiled in Ralph Nader's 1965 book: Unsafe At Any Speed.
Fast forward to about 1971....I was fresh out of the Navy...had a new p.r. job for a Kansas City community college.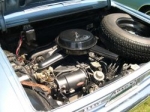 And my boss told me to pick up Raph Nader at a downtown hotel for an evening campus speech on "Consumer Advocacy."
And rather oblivious to lots of things back then, I picked him up in a borrowed Chevy CORVAIR.
Two friends -- students in the University of Missouri-Kansas City's law school -- had successfully begged to ride along in the back seat – so they could meet and soak up a bit of Nader. (Not a word of warning from them.)
I remember pulling up to the downtown hotel entrance....Nader standing outside…waiting for us.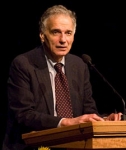 And the uncomfortable exchange.
"I can't ride in that car," Nader yelled at me. "If the news media sees me, I'm crucified."
I didn't tell him he wasn't Jesus.
Just it was getting dark; raining, no cabs; no one would see him; he'd travelled all this way; the campus crowd was waiting; and, of course, that his speaking fee meant showing up.
So Nader swallowed his corvair foibles….and got in.
I think about Nader and that encounter.... almost every time I take the apartment trash out these days.
Next to the apt. trash dumpster, in Barney's Brake Service's backyard, is this silent witness: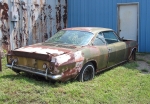 The end of the road for an old Corvair....weeds growing like a hothouse in the back seat – where the law school students were sitting in 1971.
And the old, rusted Covair with broken windows seems to be sinking into the mud and ground ….like a casket slowly lowered into the grave.
To think Ralph Nader is still making a run for the White House 37 years later.
At least now we all know he's not Jesus.