March 05, 2006
"Don't Ask. Don't Tell."
I was kinda releived this past week, to see that the "Don't Ask. Don't Tell" nonsense about gays serving in the U.S. military is going to get resolved.
I served on a U.S. aircraft carrier off Vietnam for three years in the last '60s. Never got propositioned in the head or the shower.
The big worry was all the lunkheads who sniffed glue out of 10-gallon cans and then tried to install Sidewinders or 500-pounders under the wings of an F-4 Phantom.
In 1982, only 32 percent of Americans were willing to accept people who were gay and openly practiced a gay lifestyle – today that number is closer to 60 percent.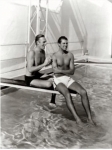 Today, most Americans care less and less about sexual orientation.
Its taken us a long way and a long time. Randolph Scott can take off his spurs and chaps. And Cary his tux and evening cane.
So they shared a Hollywood beachfront home for 12 years?
We don't much care if neither were saints.
We can remember Grant in North by Northwest, with a real Saint – Eva Marie.