December 23, 2010
30 Minutes With Gerry
I've been on a tear the last week or so, reading stories about the Pacific island campaigns (Tarawa, Guadacanal, etc) of WWII.
Most of us know that George Bush The First was a Navy pilot. Many fewer, perhaps, that Gerald Ford served quietly, with distinction, during some of the worst fighting in the Pacific.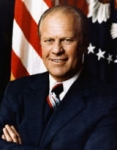 But Gerald Ford, from his University of Michigan football days, to his U.S. Presidency, was never one to blow his own horn.
I hadn't lived in Grand Rapids, Michigan long before I met former U.S. President Gerald Ford for the first, and last, time.
An afternoon meeting concluded in my office, and one of the participants mentioned he was going down to "visit with Gerry" at the Ford Presidential Museum. And he asked if I wanted to come along.
So we walked down Pearl Street, across the Grand River bridge to the Museum.
Inside, I noticed several men with the telltale lapel pins and ear plugs associated with the Secret Service.
But we were rather casually ushered into President Ford's office at the Museum.
He got up and greeted us – particularly my colleague, who was an old friend.
And the three of us sat chatting about University of Michigan football, Bill Clinton's reelection prospects, and local politics for about 30 minutes.
I was surprised at how 'easy' the conversation was; and that Ford seemed in no hurry to end the chat. There was no glancing at his watch; no shifting of his eyes in anticipation of the next meeting on his schedule.
Walking back across the Grand River bridge, my colleague told several endearing stories from his friend "Gerry" Ford's some 25 years representing Grand Rapids and Michigan's 5th Congressional District.
I was thinking about the President Gerald Ford who helped bring a close to Watergate, the Vietnam War, and dealt with Soviet expansionism and domestic inflation in the mid-1970s.
"He's a very common man," my associate commented to me about Ford.
And much more, I thought to myself.