December 31, 2010
"Oh Cisco!" Oh, Pancho!"
The Cisco Kid is in Battle Creek, Michigan USA. Nearly 60 years after his TV debut in the early 1950s.

I watch him some evenings. Just as I did as a nine year old.
Like The Lone Ranger, Cisco Kid always captures the bad guys and whows the ladies.
Unlike the Masked Man, who today seems a bit stuffy and even condescending, Cisco Kid still has a sense of humor, natural acting ability, and a good time with his sidekick, Pancho.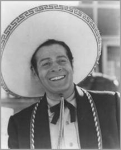 Viewers can count on a joke, and the famous "Oh, Cisco!", "Oh, Pancho!" at the close of each episode.
In real life, Duncan Renaldo was evidently as nice a guy as the one he played on our tv sets, according to Internet and print articles about his life.
He also had a secret – one that would get him in hot water, even today.
Renaldo was an illegal immigrant from Spain.
Born in 1904, he never knew his parents. He came to the U.S. in the 1920s, working on a Brazilian coal ship.
He overstayed his 90-day visa, and was arrested in the 1930s and threatened with deportation.
U.S. President Franklin D. Roosevelt eventually granted him a pardon.

In 1928 Renaldo started making films for MGM. His career soon dimmed when he became the 'Cisco Kid' in a 1945 film series that eventually wound up on television.
Along side Pancho (Leo Carrillo), the Cisco Kid won the day -- usually without drawing his pistol.
According to accounts, The Cisco Kid was wildly popular in his day -- among children and adult viewers.
The television series ended in the mid-1950s. (By that time, Renaldo was 51 and Carillo approaching 80 years of age.)

Historical photographs available on the Internet recall famous visits to county fairs and company-sponsored picnics by Renaldo in the early 60s. That was how he made his living after the movie and tv lights went out.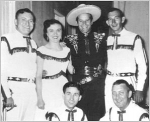 With grace and good fun, Renaldo posed with local groups who remembered and loved his style and his smile.
Duncan Renaldo died in 1980 of lung cancer.
We could use a few more Cisco Kids.
"Adios, Amigo!"
"See you soon!"
"Ha!"