September 28, 2012
'Kill Chicken , To Frighten Monkey'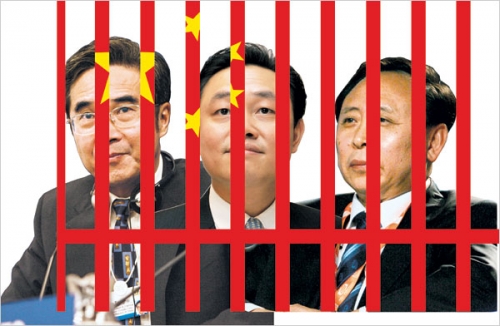 Nothing New with Bo Xilai's Dalian, China Corruption:
Kill Chicken, To Frighten Monkey
Bo Xilai was mayor of Dalian, a lovely city in Northern China, next to the Yalu River and the border with North Korea, when I travelled there frequently in the early 2000s to visit with Chinese inlaws, who were also intertwined in local Communist party politics. I don't recall meeting Bo Xilai, but his type of behavior was common. http://www.nytimes.com/2012/09/29/world/asia/bo-xilai-expelled-from-chinas-communist-party.html?ref=global-home
***
The Chinese love fish head soup. With the head left floating in the broth.
The cheeks of the fish head are considered the most delicate and desirable.
The guest of honor at the typical Chinese dinner is offered opportunity to eat the fish's cheeks.
Which I did one evening.
Dinner with my Chinese wife and her family in Dalian, northern China, just across the Yalu River from N. Korea.
A typically crowded, noisy, smoky Chinese restaurant -- families having dinner, business/communist party officials soaking up free food and drink.
About 20 family members and their friends, sitting around a table -- rotating food platter in the middle and stacked with perhaps 30 different food dishes.
Suddenly, my wife's uncle, face aglow and eyes watering from the toasts, a poo-ba in the Dalian Communist Party and host for the evening, yells at the waiter in Chinese about the quality of the fish head soup.
The waiter slinks off. Replaced by the Restaurant Manager dragging behind him a cook clad in a filthy uniform.
Wife translates for me:
"Cook is fired!," restaurant manager proclaims to Uncle.
'New' waiters bring a platter of complimentary green beans with hot, spicy pepper slices, and bottles of pungent rice wine.
Chinese uncle smiles, leans over, says something to Wife.
I ask: "What did Uncle say?"
She whispers: "Kill chicken, to frighten the monkey."