September 29, 2012
McNamara, 'Rummy,' And Misery Revisited
McNamara, 'Rummy,' And The Misery Revisited
by Jim Richmond
The old man next to me at the dinner table in New York City was still recognizable. But barely.
Gone was the black hair; replaced by a few white strands combed to hide his scalp.
Brown, age and liver spots dotted his now sunken cheeks and pencil-thin face.
Only the eyeglasses were familar from TV news clips in the mid 1960s.
It was Robert McNamara, Secretary of Defense under LBJ, who with his "Whiz Kids" from the auto industry, carried out LBJ's dictums in Vietnam; while trying to apply business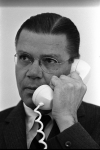 management systems to the Defense Department.
McNamara served longer than anyone else in American history as DOD Secretary.
But when he retired, many believed McNamara had failed in Vietnam. And had setbacks in modernizing the U.S. military.
So, here it was, in the early 1990s, as I sat next to him at this black tie, charitable fundraising dinner in New York
I was nearly tongued-tied. Not that I didn't know what to say to or ask McNamara. As a Vietman vet, I had questions.
But the evening, the timing seemed inappropriate, wrong. My questions would be too pointed, I convinced myself.
So I let the chance go by. Confined comments to small talk about economics and the World Bank, which McNamara headed after leaving government service.
Vietnam still seemed like the big, silent elephant at our table.
I recalled this unsatisying experience the other evening as I viewed, again, the 6-hour Frontline series "Bush's War," telecast on PBS, and watched another Secretary of Defense, who, next to McNamara, served the longest tenure in American history as DOD Secretary: Donald Rumsfeld.
The PBS-TV series depicts Rumsfield as a no-holds-barred White House infighter, who took on the State Department and the generals, to advocate, with Dick Chaney, for a quick, decisive invasion of Iraq after 9/11.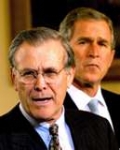 Like McNamara, Rumsfield is proven myopic in his global and battlefield perspective of a geographic region and a very different type of military conflict.
And, also like McNamara, Rumsfield experiences setbacks in efforts to reinvent, streamline and downsize the Defense Department -- some reflecting a new reality after 9/11. (He gets a large measure of the blame/credit for the latest BRAC efforts to close the Battle Creek Federal Center and other military installations over the past 25 years or so.)
New York Times stories (and Bob Woodward's books and articles) have profiled McNamara and Rumsfield: Their micromanaging, impatience, arrogance. (Rumsfield was a member of the Kellogg Company Board of Directors for a time. There are less than flattering local stories in that venue.)
Since his DOD departure, the 80-so-old Rumsfield has been out of public view....probably savoring his later years in St. Michaels, Maryland, on the former slave plantation he owns and calls "Mount Misery," infamous as site for captivity of Frederick Douglass at hands of "slave breaker" Edward Covey.
Rumsfield is reportedly a multimillionare from his business turnaround years as head of G.D. Searle and other multinational corporations.
We probably won't know -- for sure -- the outcome of the Iraq War for decades -- just as we are only now rewriting outcomes of the Vietnam Conflict, in light of the 'new' Vietnam's pell mell rush toward capitalism. (The Domino Theory turned out to be about capitalism, not communism.)
McNamara died in 2009 at age 92. Wish I could have collected on a rain check from that dinner chat of long ago.
Ask those questions about Vietnam.
Hope "Rummy" is happy on Mount Misery.
08:25 Posted in U.Sl Politics | Permalink | Comments (0) | Tags: mcnamara, rumsfield, iraq, vietnam |
Facebook |