January 27, 2013
Booty -- or Curtain -- Call ?
Booty -- or Curtain
-- Call ?
*Sarah had energy, style, intellect, beauty and assertiveness.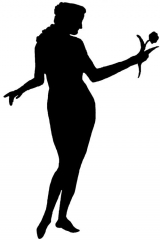 So I asked her out on a date. We were adults; middle age. Well read professionals.
We went to a movie the first night.
And then on the second date, I had tickets for a Michigan State University home football game.
In retrospect, I should have known something when she used the men's 'john' at half-time because the lady's line was 'too long.'
She bantered with the University boys in the line, and ignored the 'Woo Ha. Woo Ha," compliments that came her way...sauntering past the line of male back sides, smiles and urinals to the stalls.
Driving home from East Lansing, she invited me over the following weekend "for a casual, home cooked meal."
So I arrived the appointed hour, with a nice bottle of California Sauvignon.
And rang her door bell.
Sarah opened the door, wearing a skirt and a kitchen apron.
And nothing else. From the waist up.
She smiled and welcomed me. We went up the stairs to her lovely apartment as if there was nothing unusual or needed to be explained, commented on.
I sat in the living room, reading the paper; occasionally glancing toward the kitchen where she mixed salad and removed cheese casserole from the oven.
She warmed the dinner plates. Impressive. How many people in places like Battle Creek, Saginaw or Grand Rapids heat their dinner plates?
We sat across from each other, in candlelight, with soft classical music playing from nearby speakers, toasted the night, and enjoyed the meal.
Talked local politics. Favorite books. Job stuff.
And I thought, 'As odd as all this is, if she's not going to say anything, I'm not either."
We laughed knowingly over the fruit with rum sauce dessert, as if there was a third person at the table who didn't know our secret code or hand shake.
Around 9 p.m., it was somehow clear the evening was nighe over.
Sarah walked me slowly, casually to the front door.
Trying to delay things a bit, I bantered: "Do I get a rain check?"
She laughed, applying a chaste cheek kiss, "We'll see. This is just opening night."
Some time later, by delightful accident, I learned the first evening and Sarah's ensemble had little to do with romance or sex.
She'd recently had breast implants.
And this was opening night. Like a Broadway Show.
Guess if I looked that good, I'd want the right people to see The First Act.
All I could think about that evening was whether this was a Curtain --or perhaps Booty -- Call.
----
*name and minor details changed to protect privacy.