January 23, 2013
Remembering Jane Wyatt
Somehow, I missed Jane Wyatt's death notice a few years back.

Wyatt was 96 years old when she died; and I've followed her career for much of my own 68 years.

Wyatt was Ronald Coleman's love interest in the famous '30s film, Lost Horizon; but was perhaps best known as mother Margaret Anderson in the 1950s tv show "Father Knows Best," with Robert Young in the lead role.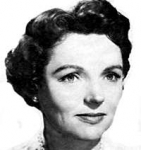 Wyatt, Young and their three onscreen children did more than 200, 30-minute tv programs from 1954 to 1960. An exhausting schedule that was not without its bumps along the way.

The two were friends, admired each other; but never socialized off the set, and, in real life, their three tv show children lived problemmatic lives.

The Father Knows Best program was criticized in the '60s and '70s as being too middle class, too white, too stereotype.

But growing up, I loved the show.

And I sort of loved Jane Wyatt from a distance over all these years. And I'm not sure why. (I'm sure a shrink would have plenty of suggestions.)
Once or twice a year, I'd go to Wikepedia or 'Dead or Alive' websites, just to check that Wyatt was still around and to read up on her very occasional movie or tv credit, as late as 1986 in one of the Star Trek flicks.

I particularily admired Wyatt for standing up to Senator Joseph McCarthy during the communist witch hunts of the early 50s.

I admired her for her life long commitment to her husband of some 62 years; and to her children.

She was also always very candid in her observations about the moview business, self deprecating, grounded, honest.

She died quietly in her sleep.

A wonderful life, and a nice last scene, for a fine actress and human being.