January 13, 2013
Remember The Red River Valley
Remember The Red River Valley
"Eddy," asks, like clockwork, as he helps pass out food trays and refills small glasses with watery apple juice.
And again at evening time: "What cha doin after dinner, Phil? Goin outside?"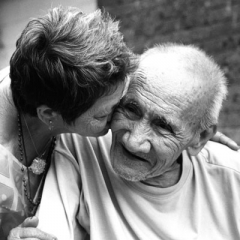 At breakfast, about 70 seniors, most with noticeable physical and/or mental challenges, wait patiently for staff to distribute small containers of pills.
Kitchen helpers roll in large metal warmers, containing tin trays, with scrambled eggs, sausage, a piece of toast, jelly, butter, and glass of juice.
Everyone waits patiently, 3 or 4 residents to a table, for the food. For the food is the focus on the day -- three times a day for those in this 'assisted living facility.'
"What cha doin after breakfast, Bill? Goin outside?"
"What cha doin after breakfast, Sally? Goin outside?"
The facility serves poor seniors; and those with emotional and physical problems that would bar admission or acceptance elsewhere.
There is no airconditioning in the congregate dining room in the summer, and a chill fills the room this winter morning.
You're reminded of life changes and lessons in a 'retirement home'. About caring. Weaknesses. Emotional strength and friendship in the face of aged bodies, missing legs from diabetes, missing brain power from onset and end stage dementia.
Residents and low-paid staff are much like family. Usually cheerful, upbeat, encouraging, good listeners. Occasionally loud, unhappy, jealous, brusk.
Then tonight, the late day sun peeks in the first floor dining hall ….as residents eat hamburgers with tomatoes, onions, mustard and ketchup, applesauce, and a single, round cookie the size of a quarter.
This lovely, at one time elegant, elderly lady with red hair had sat, just this morning, with her small table group of resident friends across the way; smiling, engaged, animated.
Now, she sits at the same dinner table, head half bent forward, resting on her chest, eyes blank, untouched food before her.
In the distance, are the faint sounds of the auto organ in the recreation room, playing "Red River Valley":
From this valley they say you are going
We will miss your bright eyes and sweet smile
For they say you are taking the sunshine
That has brightened our path for a while

Come and sit by my side if you love me
Do not hasten to bid me adieu
But remember the Red River Valley
And the cowboy who loved you so true

Won't you think of the valley you're leaving
Oh how lonely, how sad it will be?
Oh think of the fond heart you're breaking
And the grief you are causing to me

As you go to your home by the ocean
May you never forget those sweet hours
That we spent in the Red River Valley
And the love we exchanged mid the flowers