January 18, 2013
Rite of Passage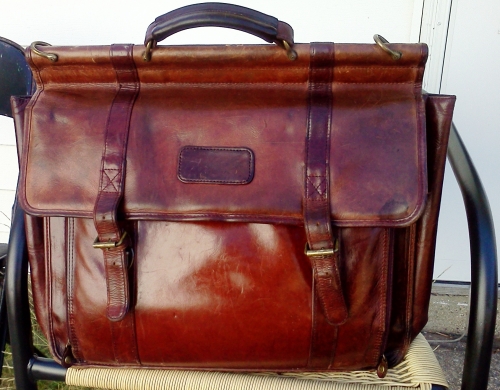 Rite of Passage
In the late 80s, I was very successful as CEO in "growing" a struggling NGO in South Carolina. Then recruited for another job, I informed my Board, and was told they were having a "community thank-you party" in my honor.

"What would you like as a gift? We are all chipping in," my Board Chairman asked me.
A bit taken aback, I replied: "Well, I've always wanted a leather briefcase."

So, at the event, my Board presented me with this leather briefcase.
A few days later, I took it into where it had been purchased, and asked what to use to clean it. The clerk commented: "Take good care of that.... you might want insurance. It's the best we have."

I asked: "Just curious, how much did it cost?"

The clerk replied: "Oh, about $825."
I about swallowed my dentures.

So, 27 years later, I'm giving it to my son, when I see him next Saturday.
Hope it brings him as much luck as it has me over the years. It has traveled many career paths since...and the world; stained with late winter snow in St. Petersburg, Russia; pelted by hot rain in Shanghai, China; and battered, buffeted and abused by baggage handlers in Cali, Columbia.

It needs a good, new home, too ...a fresh start and new life... carrying "important" papers and weekend reading assignments.
And there is no better place for it to call home than with my son, Josh.