June 23, 2009
WWII 'Old Salt' Worries 'Luck May Be Running Out'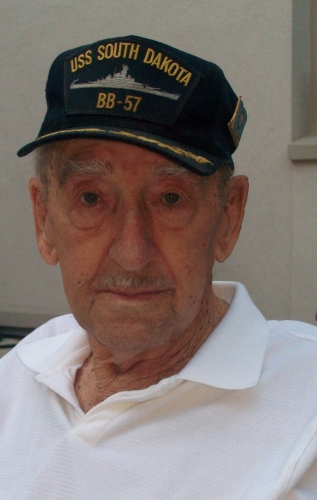 Frank Price says he's been lucky in war and in love, serving and surviving on the battleship USS South Dakota (BB-57) during World War II, when the ship suffered 42 hits during just one of its engagements with Japanese warships and fighter planes.
Price, 88, talks knowledgeably about the ship's bloody WWII conflicts, battles with famous names like Guadalcanal, Tarawa, Tinian and Truk. He served on the USS South Dakota for nearly five years, achieving the rank of Chief Warrant Officer.
But his real luck in life has less to do with making it through World War II, than meeting and marrying Margaret Marie (Lennon), his wife of 64 years, Price said.
The two grew up on neighboring farms near Bellevue, Michigan, but didn't start dating until after Price returned from Navy service.
"I didn't get serious with any girls before I got out of the (military) service," he recalled. "Because I didn't know if I'd make it back home alive."
He remembered Margaret. "I walked over to the Lennon family farm and asked her mom if I could ask Margaret out on a date," Price recalled. Six months later, they married.
Price returned to work at Post Foods, where he was employed 45 years.
After raising seven children, Margaret then worked 20 years at the Battle Creek Federal Center.
Following retirement, the Prices relocated to Sarasota, Florida; but returned to Battle Creek to be closer to family and for medical reasons, he said.
About a year ago, they moved into the Care Community assisted living facility, located on General Avenue in the Ft. Custer area of Battle Creek.
After a fall and a hospital stay, Margaret was transferred by her physician and family to a long term care facility.
Each morning, Frank gets a ride from Care Community to visit his wife for two or three hours.
"I've been lucky to have Margaret all these years. But, maybe my luck's running out. I miss her so, so much," he said.
n 30 –
n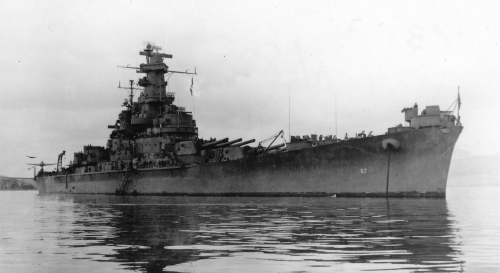 Photo Caption: Frank Price served as a Chief Warrant Officer for nearly five years aboard the USS South Dakota (BB 57), during some of the battleship's most fearsome fights with the Japanese in World War II. (US Navy Photo).
June 07, 2009
"These Cemeteries Worth A Visit"


Two of my favorite places for walks, and just quiet bench time, are historic Oak Hill Cemetery, where everyone from Ellen White, C.W. Post, W. K. Kellogg to Junior Walker ("Junior Walker and The All Stars -- "Shotgun!" fame) are buried, and the relatively new Ft. Custer National Cemetery off Dickman Road in nearby Augusta, Michigan.

There is a German POW memorial and grave(s) site at the national cemetery. A line of German POW graves. German soldiers were prisoners at Ft. Custer in WWII from 1943 to 1946. More than half of the 26 buried here, were killed on Oct. 31, 1945 when the truck they were riding in....to do farm work...was hit by a train.

Across the cemetery road are more U.S. military graves, and a single bench near the tree line, that provides a wonderful spot for thinking or reading, or saying a prayer of thanks to our US soliders buried here.

I stop at the bench often on my walks....but also slowly meander among the U.S. graves...mostly from WWI, Korea and Vietnam......quite a few of the Vietnam vets buried here are younger than me. (Perhaps, one day, I will join my Vietnam Vet brethern in this ground. Not an unpleasant thought.)

But I wonder about all of them....their military service in the various wars. Their families. Their lives.


MARY T. BURLEY
Capt. U.S. Army
Korea
48th MASH
January 17, 1928 - July 20,2002.
"We Love You Mom"


Capt. Burley served as a nurse in one of the MASH (Mobile Army Surgical Hospitals) units, forward deployed during the Korean Conflict -- the same hospitals that the TV series and movie were based on.

There are so many told and untold stories in the two cemeteries.

But the national cemetery, and our US soldiers buried there, are special.

And, yes, "We Love You Mom."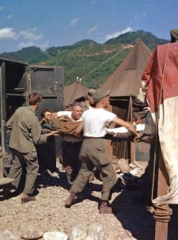 Actual MASH unit, unloading wounded US soliders, Korea, early 1950s.
June 05, 2009
Postcard to George


Hi, George.

By now you and Laura are settled back in Texas.
Sorry I missed your spine-tingling speech the other day at the SW Michigan Economic Club – whooooohaaaaa! Bet that was a perky group. Understand it was only the second public speech you've made since departing the White House. You wanted to be around friends, right? Not worry about protesters or placards.

Take your time to adjust.

Even for a guy with your gumba, it must be a change, a shock!

Hope you're sleeping in a bit late.

Giving Laura more hugs.

Back out there biking with Lance Armstrong in the mornings.

You deserve it!

Pretty rough eight years, right, pardner? Like fallin off a buckin Texas longhorn in the last 60 seconds of a two-minute ride.
Left you with a few bruises, we bet?
But then you left us in a pile of steer shit, too, if you'd pardon my language.

Decided what you're gonna do now?

Build that new presidential library to house papers about your eight years of Presidential "successes"?
Maybe your library can rewrite history. So there WERE weapons of mass destruction in Iraq. So you tracked down Osama. So you tightened rathered than loosened regulatory rules on the Wall Street speculators. Reformed social security and national health care. Got us started down the free-from-foreign-oil road.

While you wait for that library, just lean back, chill out, mi amigo!

You could buy another baseball team. Join Rush on radio in the morning.

We could use you, Cowboy!!!! Bang, bang. Bang, bang. In my cold, dead hand..and all that. Especially now that Charlton is pushing up daisies instead of fighting gladiators in The Coliseum.

Me? Gosh, buddy, I'm lost for words, M-I-S-S-I-N you so!
As I said, Amerika has been in a pile of deep do-do long before your departure.
Same with our family, Mr. P.

Mary lost her job. Has breast cancer; which has spread. We've spent all our money saved for retirement, so we could pay her hospital bills.

I'm on unemployment, too.

Can't sell the house. And the kids can't find work; except at McDonald's or Wal-Mart.

But, don't worry about us.

We'll get by.... Always do.
And like most folks in Amerika, we're trying hard to stay positive, but to clean up after your eight-year Texas Chainsaw Massacre, know what I mean?

Maybe not.
You always said you didn't give a damn what people thought about you as President...that history would decide.

I think you're soooooo right. It's being written right now.
Say "hey," to Laura for us.

Kick that coon dog for me, hear? :-)