August 30, 2009
Author's Note: This is second is a series of "Church Visit" profiles to appear here.
For last week's visit to, and profile of, Dexter Lake Church go to: http://ragstorichmond.blogspirit.com/archive/2009/08/23/c...
Next Sunday: First Christian Church. On 8.13.09: Ft. Custer Chapel (former military base chapel, now operated as a nondenominational church.). 8.20.09: Southwind Community Church (Lakeview). 8:30.09: Salvation Army (Battle Creek). For later fall: Battle Creek's high roller, downtown churches.
'First Wes' Sunday Service a Pleasant Surprise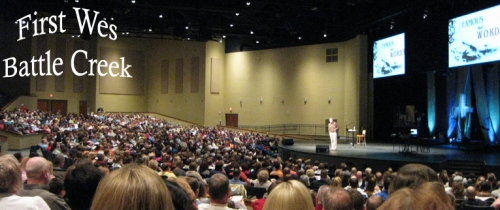 I was prepared to not particularly like First Wes Church today. Albeit a good friend is a Church member. My prior impressions of First Wes were as this huge, quasi mega, impersonal church (for Battle Creek's size) more about growth than agape.
Turned out I was wrong. On several scores.
The Church's Senior Pastor spoke on "The Real Thing," agape love vs. Eros or physical love. I'd give him a grade of B+ on the sermon. Sort of a laid back style, combining bits of Deback Chopra, Wayne Dyer and Tony Campolo. His sermon was reasoned; perhaps a bit too secular in tone and delivery: "Real love is a choice, not a feeling. If we have real faith in the Lord, that faith leads to real love. Real love is choosing to love those you'd rather not love. Real love pulls us out of fear of life and others."
He used PowerPoint slides, a giant screen with an amusing video with skits about how wearing your Christianity on your sleeve, chest or car bumper doesn't mean you're A Good Christian, or a very loving person.
Along with than the sermon, I was impressed with the music and the musicians: five or six musicians that sounded like 12. Three great lead singers, solid instrumental accompaniment. The contemporary religious songs were well chosen (love themes, like the sermon). It would be hard for Pontius Pilate to sit at First Wes and not stand up, and get caught up in the Christian music. And the music left me with a spiritual connectedness that lasted through the day.
One of the male vocalists is evidently head of Church music. Good voice. But, I kept hoping the female vocalist would sing solo again – a white Mavis Staples. "Wow, is she good," I leaned over and said to my friend and Church host. "Yes, sings a lot of jazz, too" my friend commented.
At the end of his sermon, The Pastor, in what seemed like a somewhat awkward, halting statement about recent Church growth and adding another pastor (they have 3 or 4 for various functions ... big church) showed a video of the new assistant minister – growing up in Battle Creek, swimming in a Lakeview H.S. meet, later with his motorcycle, and a solitary baby picture of his wife (I think. Or was it his child? Hard to tell from the video's audio track).
The congregation didn't seem to know whether to shout out welcome and amen, or laugh, uncomfortably, at what they thought -- but were not sure -- was self depreciating humor in the video. I hoped the New Guy would come up next to the Senior Pastor on stage. He didn't.
I stopped at the Information Desk before the service and got a purple plastic bag with First Wes welcome items. "You want a First Wes coffee mug or water bottle?" the friendly Welcome Desk volunteer asked me. (I took the purple water bottle.) Lots of good printed Church material in the bag. Turned out the volunteer was the sister of a mutual friend, I'd worked with, long ago in Battle Creek.
Resting for a minute in the atrium's "First Wes" Café after the service, with lines of folks getting cappuccino, coffee and sweets, I glanced through the Sunday's bulletin: 1,924 attended last week's three services and donated $28,772. Pretty impressive when there was no offertory or basket passing at the service, just the opportunity to leave an offering or tithe envelope at the door.
"We exist to reach the lost and broken in the region and to bring them into a fully devoted relationship with Christ," is the proclaimed, printed mission of First Wes Church. (Some may be lost and broken, but the Sunday congregation looked pretty put together and middle class to me.)
First Wes makes up for its size, by having active church missions and programs for youth, adults, men, women, singles, and almost any other small group interest possible within its congregation.
Overall, a nice, low key and inspirational Sunday morning of reflection.
I like First Wes and will go back. If they let me in the parking lot and the door.
But then that's what agape is all about.
For more information on the Church and its many programs and services, go to: firstwes.org.
August 23, 2009
Church of the Nice and Easy
I went to the Dexter Lake Church today; that used to have this huge congregation, but is going thru some life changes and hard times; as we all do.
The old minister left; the new one is young, long winded, the congregation has shrunk, and the remainder seem a bit testy. (Something like, I guess, what's happened since Donnie Swaggart took over from Dad Jimmy.)
It's one of those....well the word escapes me.... (pentacostal?) churches where most everyone stands throughout the service, people say "Amen!" to ever 3rd word uttered by the preacher, and rock and sway back and forth like they've had a few too many... waving their arms in motion to the music and the minister's words.....their eyes gradually starting to roll back into the top of their heads ... where there's a giant stage, musical instruments like an iterant 70s rock band might have, and a HUGE rear screen that flashes pictures -- reminded me of Fillmore West in SF in 69, except I looked all around and couldn't see any tie-dyed t-shirts, Bill Graham, Grace Slick, Big Brother and the Holding Company, County Joe, or Janis Joplin in the church audience.
The screen didn't changes images, but had something like: "Dexter Lake Church" -- Experience it. Believe it. (Or something like that, I hadn't brought a pencil or notepad with me.)
Now, that should have been more than a WARNING, since I'm a fallen-away-Catholic, a borderline agnostic...questioning most everything......searching for faith, and thus Sunday church hopping.
Right then, I thought "Nope, this ain't my cup of tea."

But I got a ride over with a friend.

I wanted to be nice.

Most of all, I didn't want to walk the 4 miles back to my own car.


So I sat and listened to the preacher...and tried to concentrate on what he was yelling about ... something to do with a half full clay jar of olive oil, and then he went and actually got a clay jar off the stage, as a prop I guess, and he'd wave the jar in the air while he preached, and I kept hoping he wouldn't spill the olive oil.

He was starting to sway and roll on the balls of his feet ... breathing heavy....wiping sweat from forehead with a white hanky ... alternating cadence of loud breathing and pauses.....that reminded me a bit of foreplay and that nasty Tina Turner rift ("We only do it nice...and easy").

I looked around and realized I was probably the only one not getting it ... and not getting into the spirit of the occasion.

So, I kept day dreaming....checking out people in the other pews.....

A few rows up and to the right were five churchgoers together ...in profile.....two men...three women....and I think they were related. They were all chewing gum (most of the people in the church seemed to be chewing gum). But these five were chewing gum in sync, like the 1st, 2nd, 3rd, 4th and 5th violin chairs in the Battle Creek Symphony orchestra. Or The Beastie Boys. Or the Spice girls. Or The Temptations.

"How do they do that?," I wondered to myself.

After about 40 minutes of this, I excused myself from my friend, and went out to the car....and started reading the last chapters of THE ODESSA FILE.

Next Sunday I'll try a bit more mainstream church....

And I won't write about the experience here.

Or will I?
August 20, 2009
Lius Live Life of Hard Work, Family Values
by Jim Richmond
It's been 36 years, since Tony Liu swam for six hours in shark infested waters of the Pacific Ocean, escaping the Communist China mainland and reaching freedom in Hong Kong, and eventually the United States.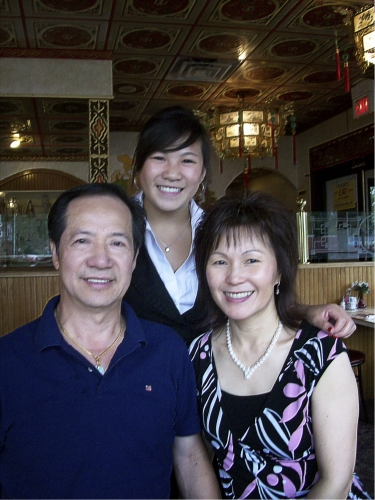 Tony said he longed to live in America, learn English, open a Chinese restaurant, raise a family, and most of all, to become a U.S. citizen. Goals he's since achieved.
For most of those years, Tony and his vivacious wife, Lisa, (a native of Hong Kong) have owned and operated Chinese restaurants in Battle Creek, first in the downtown, and for the past 20 years on Columbia Avenue.
Their "Tony's Hong Kong Restaurant" is not the biggest Chinese restaurant in Battle Creek, but many area residents think it has among the best food, service and most authentic décor.
"Our buffet is not the largest (in variety of offerings among area restaurants), but our food is very high quality," Tony commented one recent afternoon, sitting at a table, during a lull in the restaurant's business, talking about why his restaurant have been successful in an increasingly competitive local market.
Tony and Lisa Liu, with daughter Melissa. (Photo by Jim Richmond)
While he's proud of the buffet, Tony encourages guests to consider ordering from the menu, which features a much larger variety of speciality dishes.
He gives a tour of the spotlessly clean kitchen area of the restaurant, and the large sign that reminds him and employees: "Quality Food. Good Service. Clean Restaurant."
Since arriving in Battle Creek 31 years ago, the Lius have devoted long hours, usually seven days a week to their business, while raising their family of four children, Roger, 27, Daniel, 25, Waiman, 19 and Melissa, 16.
Roger and Daniel are both University of Michigan graduates; now computer engineers for the Intel Corporation. Waiman attends the University; and Melissa is a junior at Lakeview High School and attends the Science and Math Center.
Tony and Lisa also have developed a personal and family philosophy over the years that can be summarized: 'Work hard. Get an education. Take care of family. Appreciate what you have.'
Their children worked weekends, for no pay, at the family restaurant during high school and college days while they were living at home. And daughter Melissa was working at the restaurant during the recent interview with her parents.
Melissa said she sometimes misses not going with friends to weekend parties or a football game, "But I learned to realize my parents are working hard for us. That they've sacrificed a lot for us, and for the family," she said. "It doesn't hurt me to sacrifice a little (by working at the restaurant weekends)."
Tony's Hong Kong Restaurant is located at 174 East Columbia Avenue in Battle Creek, Michigan, USA.
August 04, 2009
Bottlecap Blues
In the 1950s, soft drinks came in glass bottles with strong, clawlike steel caps that had to be pried open and off. And the pointed edges of the caps were sharp…sharp as nails, a razor blade.
A bottlecap was a strange weapon of torture…especially to use on a child.
But he did it.
"He" was a full Professor of History at the regional university in Kansas City. The Professor, a normally meek, mild mannered, tiny, timid sort of a man with bow tie and thick glasses, lived next door for several years on Coleman Road. With Shelly, his 4-year old daughter. (Twin brother Johnny and I were about 7 at the time.)
Shelly was as loud, outgoing and captivating as her pedantic pop was scholarly and nondescript.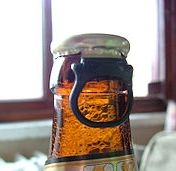 While The Professor seemed very bright, he did not own or drive a car.
Many days, my Dad would take The Professor, and Shelly, to the grocery store, or the library or the doctor's office, in our 1948 dark blue, four-door Plymouth.
Johnny rode one backseat, shotgun window. I the other.
In between would sit The Professor, and Shelly.
As regular as rain, or a sunset, The Professor would tightly hold one of Shelly's hands whenever in the car.
Shelly would jabber on. Like a typical, somewhat hyperactive child.
Until she would let out a muffled wimper, and contort her arms and torso as if undergoing electric shock treatment.
She struggled desperately to roll off the car seat, away from her father, and onto the floor.
Trying, most of all, to pull hand from her father's death grip.
Seems The Professor secretly carried a sharpened bottlecap, and he pressed the cap into the soft palmed flesh of his lovely daughter's hand.
When she 'misbehaved.'
When my Dad found out, car rides for The Professor, were over.