August 04, 2009
Bottlecap Blues
Bottlecap Blues
In the 1950s, soft drinks came in glass bottles with strong, clawlike steel caps that had to be pried open and off. And the pointed edges of the caps were sharp…sharp as nails, a razor blade.
A bottlecap was a strange weapon of torture…especially to use on a child.
But he did it.
"He" was a full Professor of History at the regional university in Kansas City. The Professor, a normally meek, mild mannered, tiny, timid sort of a man with bow tie and thick glasses, lived next door for several years on Coleman Road. With Shelly, his 4-year old daughter. (Twin brother Johnny and I were about 7 at the time.)
Shelly was as loud, outgoing and captivating as her pedantic pop was scholarly and nondescript.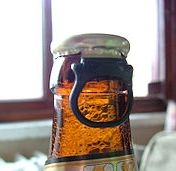 While The Professor seemed very bright, he did not own or drive a car.
Many days, my Dad would take The Professor, and Shelly, to the grocery store, or the library or the doctor's office, in our 1948 dark blue, four-door Plymouth.
Johnny rode one backseat, shotgun window. I the other.
In between would sit The Professor, and Shelly.
As regular as rain, or a sunset, The Professor would tightly hold one of Shelly's hands whenever in the car.
Shelly would jabber on. Like a typical, somewhat hyperactive child.
Until she would let out a muffled wimper, and contort her arms and torso as if undergoing electric shock treatment.
She struggled desperately to roll off the car seat, away from her father, and onto the floor.
Trying, most of all, to pull hand from her father's death grip.
Seems The Professor secretly carried a sharpened bottlecap, and he pressed the cap into the soft palmed flesh of his lovely daughter's hand.
When she 'misbehaved.'
When my Dad found out, car rides for The Professor, were over.