August 20, 2009
Lius Live Life of Hard Work, Family Values
Lius Live Life of Hard Work, Family Values
by Jim Richmond
It's been 36 years, since Tony Liu swam for six hours in shark infested waters of the Pacific Ocean, escaping the Communist China mainland and reaching freedom in Hong Kong, and eventually the United States.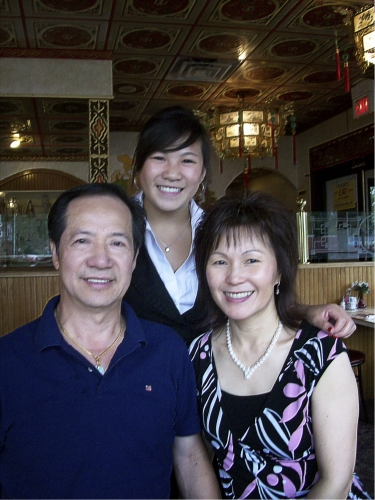 Tony said he longed to live in America, learn English, open a Chinese restaurant, raise a family, and most of all, to become a U.S. citizen. Goals he's since achieved.
For most of those years, Tony and his vivacious wife, Lisa, (a native of Hong Kong) have owned and operated Chinese restaurants in Battle Creek, first in the downtown, and for the past 20 years on Columbia Avenue.
Their "Tony's Hong Kong Restaurant" is not the biggest Chinese restaurant in Battle Creek, but many area residents think it has among the best food, service and most authentic décor.
"Our buffet is not the largest (in variety of offerings among area restaurants), but our food is very high quality," Tony commented one recent afternoon, sitting at a table, during a lull in the restaurant's business, talking about why his restaurant have been successful in an increasingly competitive local market.
Tony and Lisa Liu, with daughter Melissa. (Photo by Jim Richmond)
While he's proud of the buffet, Tony encourages guests to consider ordering from the menu, which features a much larger variety of speciality dishes.
He gives a tour of the spotlessly clean kitchen area of the restaurant, and the large sign that reminds him and employees: "Quality Food. Good Service. Clean Restaurant."
Since arriving in Battle Creek 31 years ago, the Lius have devoted long hours, usually seven days a week to their business, while raising their family of four children, Roger, 27, Daniel, 25, Waiman, 19 and Melissa, 16.
Roger and Daniel are both University of Michigan graduates; now computer engineers for the Intel Corporation. Waiman attends the University; and Melissa is a junior at Lakeview High School and attends the Science and Math Center.
Tony and Lisa also have developed a personal and family philosophy over the years that can be summarized: 'Work hard. Get an education. Take care of family. Appreciate what you have.'
Their children worked weekends, for no pay, at the family restaurant during high school and college days while they were living at home. And daughter Melissa was working at the restaurant during the recent interview with her parents.
Melissa said she sometimes misses not going with friends to weekend parties or a football game, "But I learned to realize my parents are working hard for us. That they've sacrificed a lot for us, and for the family," she said. "It doesn't hurt me to sacrifice a little (by working at the restaurant weekends)."
Tony's Hong Kong Restaurant is located at 174 East Columbia Avenue in Battle Creek, Michigan, USA.