November 01, 2009
Asher, Sullivan Are Real "Change Candidates"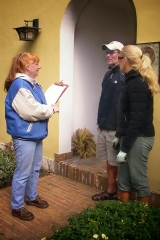 Asher, Sullivan Are Real 'Change Candidates"
Next Tuesday, a small number of City voters can make a huge difference in Battle Creek's future.

The recent City Commission's difficulty in dealing with financial cutbacks and future directions reflects how important it is for City voters to....vote.....
And in doing so, I urge my friends and associates to consider voting "yes" for Ward 3 candidate Laurie Sullivan, and Ward 4 candidate Chuck Asher.
Photo: City Commission Candidate Laurie Sullivan (left) with Steve and Linda H. at their Elizabeth Street home. (Photo by Jim Richmond)

Both are nonencumbents... challengers...part of the nonpartisan "Candidates for Change" that hope to bring fresh ideas and commitment as new City Commissioners.

Laurie -- as many of you know from her on Facebook -- has been an oustanding and outspoken civic and neighborhood leader on BC's north side for more than a decade.

She and her husband bought an empty house -- which had no heat or electricity...and turned it into a gemstone of a place, while Laurie worked with the BCPD to push the crack pushers and addicts out of the neighborhood ..and through her leadership and collaborative style and ability with other Northside residents brought new energy to code enforcement and historic preservation discussions on the Northside and downtown area.

She is a strong leader...who will devote the time and the brainpower to helping build a better Battle Creek.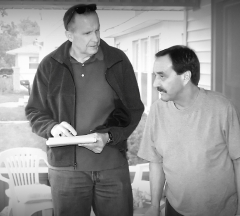 Photo: Chuck Asher at one of his "50 Stops a Day, 50 Days," at a near southside residence.
Chuck Asher is a retired BC Fire Department Lt., who has knocked on "50 Doors (each of) 50 Days" talking with near-southside residents about City issues, their views and concerns.

Asher is committed to making public services like police, fire and street repairs real priorities.

Both of these people LISTEN as well as they TALK.

So, on Tuesday, if you're in Battle Creek's Ward 3 or 4....hope you'll think SULLIVAN....ASHER.