October 19, 2009
Jackie Pieper Died This Past Week
Jackie Pieper Taught "Lessons" in Teaching and in Life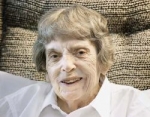 "Miss Pieper's Boys" are boys no longer.
And Jackie Pieper, 84, admits her own life is no longer what it was before Feb. 22, 2003, when she suffered a fall in her home.
It was an accident -- like those experienced by many elderly Americans -- that wiped out her independence. For her there was no more living in her own home, driving her car, shopping and coffee with retired colleagues and regular church attendance.
But, according to a friend, Pieper always has lived by the motto "Turn life's losses into life's gains." She has shared that philosophy -- and much more -- with dozens of "kids-heading-for-nowhere" that she taught in the Lakeview School District for 22 years.
And "Miss Pieper's Boys" have not forgotten the lesson, or their teacher.
Pieper was born in 1919, the only child of John and Nelle Pieper, both teachers in Urbana, Ill. Her father, a professor of agriculture at the University of Illinois, suffered a heart attack and died at age 53 in 1939. Jackie said it was from her mother, a country-school teacher, that she acquired her "zero tolerance for errors." "My mother used to say: 'There is no excuse for meaning well and doing badly.'"
Pieper never meant to be a teacher, in spite of her parents' strong career example.
She earned university degrees in speech and industrial design and for 12 years designed the exteriors of everything from washing machines and furniture to children's toys and outboard motors at a company in Chicago.
Pieper attended summer workshops on Mackinac Island of the Moral Rearmament Movement, and "I learned that God could guide you in life -- that I could go anywhere and do anything."
Pieper went back and got a master's degree in speech and language, became certified to teach and ended up applying for a teaching position in Battle Creek, "where I didn't know a soul, but knew that I belonged, and that I would spend my life teaching kids here."
For more than two decades, she was part of a small group of "migrant" teachers in the Lakeview School District.
"We went from school to school, working with kids who had language difficulties," she said.
Pieper never married but would end up with a huge "family."
Over the years, she also became what she called "a gap filler" for poor kids, often from broken homes, where there was a gap between government assistance and what the family needed to survive.
One of those families included Gary Nash, who described himself as "a kid heading for nowhere" when he met Jackie Pieper.
"With six children, our family was so poor all we ever ate was commodity food. My dad died when I was really young. And at age 8, I had a profound stuttering problem."
Pieper worked with Nash to overcome the stuttering, and he became one of "Miss Pieper's Boys" -- disadvantaged youngsters she ensured got dental care, new clothes for starting school in the fall and even Christmas presents to give to other family members.
She filled the basement of her house on South Moreland Drive with new clothing, purchased with her own money and donations from others, that she'd give to kids and their families.
Nash, now executive director of the YMCA in Escanaba, also remembers all the trips he and other "carloads of kids" would take with Pieper to basketball games, musical and theatrical productions, the zoo or a movie.
"What I didn't know then was that each of these trips was a 'teachable moment' for us kids, as far as Jackie was concerned. We'd go to a basketball game, and then over a nice dinner, Jackie would talk and question us about how the team never gave up and what might that mean for our own lives and futures."
Pieper also followed the life paths of her former students; was known to quietly help kids pay for their college tuition. She would even let some of them stay in the basement of her home while attending college classes to save money.
"I'm a weed puller, not a flower planter," she said, referring to helping kids and families with immediate needs. "I've always been interested more in righting today's wrongs than in starting up something new."
The past year, since her fall, has been a roller coaster of "in and out of hospitals, nursing homes, getting better, and then getting other health problems," Pieper said.
She now has a small, comfortable unit in the Heritage Assistance Living Center on Helmer Road.
"It was a shock for me, the prospect of having to sell my home and move in here," she said during a recent interview. "But the day I arrived, all the pictures, all the furniture, all the things I loved from my home had been brought here by my great and good friends. It was almost like going home again."
Today, whenever Jackie Pieper needs something, her many friends and now adult "Miss Pieper's Boys" are there for her. Little wonder why.
"She was just like an aunt or second mother to dozens of us kids," Nash said. "There was never a lot of 'gray' in Jackie Pieper's world. She taught and showed us that there's a lot you can and should do in life. And some things you shouldn't do. I've never met a more honest person, in each and every aspect of her life. She set standards for integrity, moral courage and selflessness."
Nash said he is "trying to pass along" these same values to his own four children.
And while Jackie Pieper might still consider herself a reformer, a "weed puller," it's obvious she's planted plenty of flowers during her lifetime.
Jim Richmond lives in Battle Creek, and is past vice president of the W.K. Kellogg Foundation and president of the Battle Creek Community Foundation. His column first appeared in the Battle Creek Enquirer newspaper.