March 31, 2010
One Toke Over The Line ?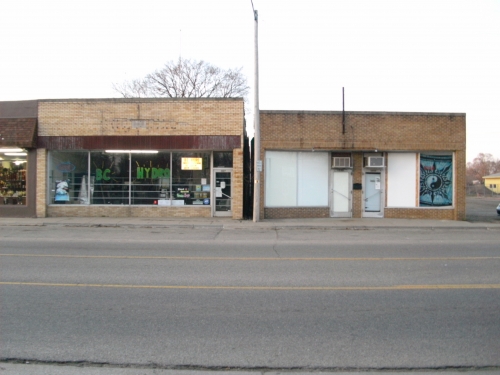 There are two strange, new storefronts round the corner from where I work on Territorial Road near 20th street in Battle Creek, Mi., USA.
One is a makeshift, fertilizer and sun lamp filled "BC HYDRO" indoor plant -growing store. CALL 96-GROW.
The other has a sign in front: "Cereal City Compassion Club" with a marijuana plant for a logo.
Cars crowd the front and side lots during daylight hours. People enter and leave thru rear doors.
A blue and white, tied-dyed blanket hangs from the Cereal City Compassion Club window, blocking out curious eyes. "PRIVATE. Please enter in rear of Bldg."
Medical marijuana relief, or pot- shops for Ann Arborites and aging hippies?
Could the new 'business' be part of an Economic Development Plan by our City Fathers?
Civic improvement at its creative, cutting-edge best?
After all, these roach-and-stem-loving folks replace the blind pig and after-hours gambling den that occupied the same storefront spaces until recently.
We got the number for 96-GROW.
Anyone know the one for Silent Observer?
Verdict In On Early Screening for Breast Cancer
A new study puts to rest the debate over the efficacy of early screening for breast cancer: benefits outweigh risks. For every 1 woman who is subjected to unnecessary surgery or other treatment, 2 women are saved as a result of early screening.
Amidst the study's details, a rather remarkable comment by one of the study's physician/researchers: "If only we could understand why and how some women's bodies destroy the cancer without treatment. If we knew (the answer,) we could 'cure' breast cancer."
For study details, go to: http://news.bbc.co.uk/2/hi/health/8594940.stm
'Happiness' Is Found in Our Relationships; Not Our Bank Account
That Porsche in the driveway might be kick-ass fun on the road and a real rubber-necker with the girls, but it won't make you happy.
Worldwide comparisons of relative "happiness" reveal that net income, and salary raises, don't mean much after you reach an annual income of about $60,000.
What makes people happy and content are their relationships, and when they reach out, and give back, to other people and their communities.
Read all about it, in this brief essay. Then: be happy. http://www.movementforhappiness.org/movement-manifesto
March 28, 2010
Getting Revenge
Revenge or forgiveness? Why do we not seek revenge against our genetic relatives? What are the key factors that make us willing, or unwilling, to forgive someone?
This is a wonderful NPR program ..... anxious to read his book. Enjoy. Go to: http://speakingoffaith.publicradio.org/programs/2008/reve...
March 21, 2010
"Kitty Sez: 'Fill Up That Food Bowl, Fool.'"
Males over age 18 know we're just pawns in the hands of most women. A smile, a gentle hand on the nap of the neck. We turn to putty.

Women will claim men play the same game.

Now, we learn our feline friends have our number.
Don't let that purring go to your head or your heart.
'Fill up that food bowl, fool.'
Go to: http://news.bbc.co.uk/2/hi/8147566.stm
March 19, 2010
Slow Those BCPS School Buses Down, Please
This afternoon, I was stopped at a traffic light behind a Community Action Agency of South Central Michigan (CAA) minivan.
A large painted notice on the back of the van, proclaimed: "How's my driving? For a compliment or complaint, call (telephone #)."
I know bus and truck drivers hate snitch signs and often cover them with mud or scratch out part of the telephone #.
So this is my compliment to CAA for caring about how its employees drive, and for the safety of van passengers and the general public.
And while on the topic, here's my raspberry to whoever is in charge of bus drivers at the Battle Creek Public Schools (BCPS).
Over and over this past winter, I watched as BCPS school bus drivers barreled over the Washington Bridge going 50 miles an hour, ran red lights, and ignored stop signs.
Thankfully, most of the time, the buses had no children aboard.
While the BCPS drivers might have a tight schedule getting our kids to and from schools, someone needs to tell them to s-l-o-w down.
And how about that CAA sign?