August 06, 2010
Change on the Morbid Motor Mile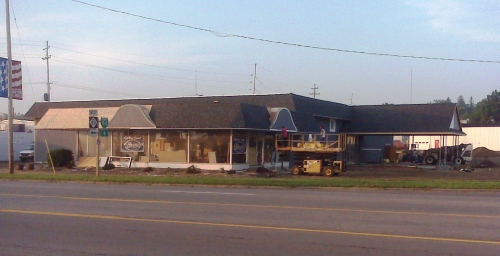 Change on the Morbid Motor Mile
Change is good.
Change is unavoidable.
But, sometimes change can seem a bit strange.
Take the old Henkel Auto Showroom on "The Motor Mile" stretch of car dealerships along Dickman Road in Battle Creek.
Smack dab between and among Heritage Chevrolet, DeMaag Olds, Sunshine Toyota, Lakeview Ford dealership showrooms and sales lots is a new neighbor, new addition.
The old Henkel showroom and lot is being transformed into 'Baxter Funeral and Cremation Services.'
There must be a Motor Mile synergy here. I just don't see it.
Perhaps it's the proximity in being able to get your oil changed and funeral planned while you wait.
Maybe it's straightout marketing.
Baxter can put a nice display and range of caskets and urns in its own, new 'showroom' and on its lots:.
One casket could have a display sign: "GUARANTEED FOR 1,000 YEARS!"
"WILL GET YOU TO THOSE PEARLY GATES!"
"A GODLY SPECIAL!"
"NO INTEREST FOR 100 YEARS!"
"DEVIL OF A DEAL!"
And there could be a display of attractive urns suitable for cremation remains.
"ALL BILLY WILL EVER NEED!"
"$500 COVERS EVERYTHING! NO EMBALMING! NO EXPENSIVE BURIAL PLOT!
Or another:
"PERFECT FOR THAT SPOT ON YOUR MANTLE!"
Let's wait and see if Baxter can get along with its neighbors, and the competition.