November 01, 2010
Hey, Mr. Postman
Hey, Mr. Postman!
Yes, Virginia, honey.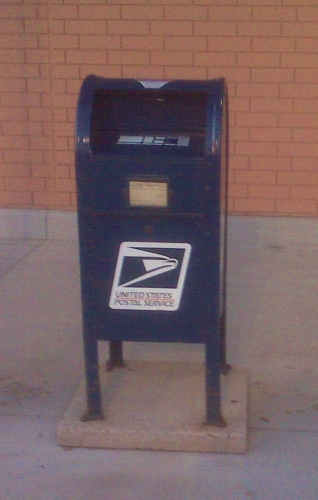 We called it a "Mail Box." There was one on every house, and then one, like in this picture, in almost every neighborhood.
Odd as it might seem today, people wrote down their thoughts on what we called "paper." They used something called a "pen" or "pencil."
Grandma or Grandpa would then put the "paper" with their written thoughts into a wrapper, called an "envelope." And stick a little glued photo on the outside.
And put the envelope in the "Mail Box."
A strange lady or a man would stop at the "Mail Box", usually once a day, and remove all the "envelopes." The lady or man were called "Postmen."
The "Postmen" were a proud people.
They picked up and delivered the envelopes even when it rained, or snowed, or flooded.
They wore strange blue and grey tribal clothes.
The envelopes went by train, truck and airplane, to another person, in another neighborhood, city, state or even country, somewhere around the world.
It would take three days for this to happen. Occasionally a week or more. And, once in a while, the envelope got lost and never arrived at all.
Imagine that!
Then the world changed.
People started using what were called "computers" for sending "email," and for "social networking" on things called "Facebook", "MySpace" and "Tweeter."
The Postmen disappeared.
Then paper. Then envelopes.
And, so too, all but a few of these now abandoned, relic "Mail Boxes," scattered in obscure, hidden away places.
Silent symbols of a different time.