November 09, 2010
"I'll GET YOU, MY SWEETIE!"
"I'LL GET YOU, MY SWEETIE!"
I'm not surprised Margaret Hamilton also taught elementary school. She looked, acted, in OZ like many teachers I had in grade school during the early and mid-'50s -- with several very notable exceptions. (Not that I or my twin were exactly at the 'head of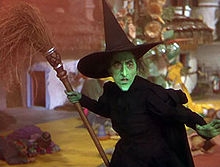 the class'.)
Have you noticed some elementary school teachers treat adults like children?
A little condescending. A little prescriptive.
A little too much parsing of an adult topic into simple concepts and outcomes.
My best bud from the 80s, (I ran 8 miles at 5 a.m. with him for years) was married to such a teacher.
Every Friday night, she would carefully write out a long " Weekend Honey Do" list for him and post on the frig door. He had to get it done by Sunday evening. Period.
She withheld many things from him, if he was derelict in his duties.
One Sat. she woke to her own life lesson.
During the night, he'd left. Permanently.
Had wiped her "assignments" from the frig door.
Left her his own version of a Saturday "To Do" list.
There's more than one lesson in this true story.