January 07, 2012
" And that's ..."
'And that's not all they wanted from me....'
One recent cold Sunday morning, I stopped by an assisted living home for seniors to visit a friend.

We sit in a nondescript, large, chilly dining room, with coffee and plates heaped with lukewarm noodles, meat balls, cut corn and apple cobbler.
Perhaps 35 residents eating lunch at small tables. Four staff members hand out noon medications, fill tiny green plastic cups with watered-down, sweet cider.

All around, the usual signs and sounds of physical and mental aging ... a sudden flood of memories about the difficult, final years and days of my dead parents and similar experiences described by friends and their own loved ones.
And midst the signs of dementia and decrepitude, most of the old people are making the best of their day, and their life in the place.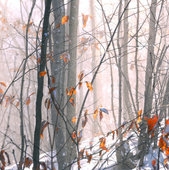 A sudden tap on my shoulder.

"Could you help me pour that coffee in my cup?" she says.

She's dressed in a bright green and white MICHIGAN STATE UNIVERSITY sweater, buttoned down the front, with a white turtleneck sweater, and black slacks.

Gold MSU "Spartan" ear rings dangle and twist when she turns her head.

"Sure," I say, getting up, walking to the Bunn burner and filling her green-and-white MSU 'Spartee' mug.

"My wrists are weak, or I'd pour my own," she explains. "And that (coffee) pot is heavy."

She's an attractive, petite, trim woman, perhaps in late 80s. White coffered hair. Made up, decked out like a wealthy owner of a sky box in The Big House. Except her allegiance isn't in Ann Arbor.

"Did you go to State? How about those Spartans?," I ask her, making small talk.

"Class of '52," she replies. "I was gonna be a lawyer but switched to special ed in my senior year."

"Can I ask your name? Mine's Jim."

"My middle's Anna, with an A. Not 'E,' one's Irish, one's German," she explains, smiling.

Anna goes on, in a rapid monologue, about raising her children, various schools she taught special ed in, about John Hanna, the MSC/U College president during her time.

As she talks, her face and gestures becomes more relaxed,

Anna moves closer with each thought, sentence. Our chins are barely six inches apart, like a loving pair of slow dancers.

Every detail of her white pancake makeup is revealed... the light red, slightly crooked lipstick outline…black hairs, standing like soldiers in a muster line, above her lips.

I stay chatty. Look in her eyes. Smile. Ask followup questions. Resist the urge to back up. Or away from the conversation.

"I was divorced, with three small kids. Making it on my own. But with this figure and blond hair, you know. I'm at this teachers' conference. All the men wanted me to leave my Battle Creek teaching job. And go to work in their (school) District. But, that's not all they wanted," she adds.

"Do you live here?," she says.

"No. I live in Battle Creek."

"I know you don't live HERE," she replies, glancing around to the other tables.

"Have a good day," she says. Smiles contently, releases me from her mental embrace and turns away.

I finish apple cobbler with my friend.
And head into the cold and snow of a late Sunday morning in Michigan.