June 14, 2012
"Jim, you were a bad, bad boy."
'JIM, YOU WERE A BAD, BAD BOY."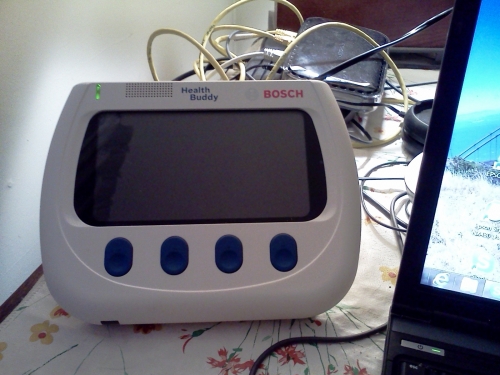 My friends at the VA Hospital have hooked me up with a new roommate. She is a small offwhite box, with four buttons and an interactive screen; and is attached to both my laptop and the Internet by ethernet cable. The VA calls her "Health Buddy." I call her "Hally," in reference to "Hal" the computer in 2001 The Space Odyssey.
You may recall that Hal tried to kill his human friend Dave in the movie.
"Hally," so far, is more benign. Each morning, she flashes a green light, and then starts asking me a series of new questions, to which I must respond.
Some seem prescient:
"GOOD MORNING, Jim. So glad to see you! Did you sleep well? I noticed from your Comcast logon that you stayed up late last night to watch the Tigers game on TV. That was some sixth inning for the Tigers, right Jim? But, don't take this wrong, Jim, that bag of chips was a bad idea and you need your sleep.
It wont happen again, will it, Jim?"
"Jim, Jim, Jim. You sent Deidre an email on SENIORSMEET suggesting lunch. Do you think that's wise, Jim? Wouldn't it be better to go a little s-l-o-w-e-r. You're not a spring chicken anymore, Jim. And Deidre may be a 300-pound ax murderer or sex pervert."
Still, I look forward to my little exchange with "Hally" each morning. At the end of session, she turns lighthearted, warm and cuddly, and asks me several historical questions....about famous dates, events....and tries to fool me.
Evidently, someone at the VA Hospital besides Hally is also reading all my health related responses about exercise, food intake, mood swings, etc.
And they may be reading this blog post.
So for the record, and because I BELIEVE and SUPPORT Hally, the VA and THE AMERICAN FLAG, let me say, hereandnow, unequivocally, God Bless You, out there, whoever you are.
----
In 2001 Space Odyssey,
[on Dave's return to the ship, after HAL has killed the rest of the crew]
HAL: Look Dave, I can see you're really upset about this. I honestly think you ought to sit down calmly, take a stress pill, and think things over.