July 04, 2012
Death, Taxes and Johnny Cash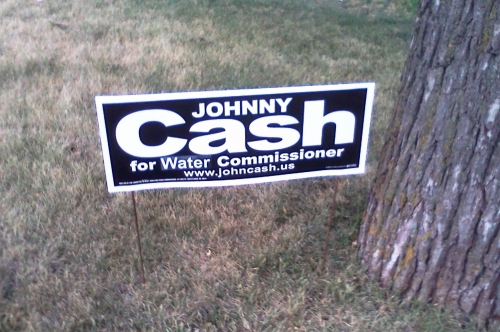 Three things certain in life:
Death, Taxes and Johnny Cash
If you live in Calhoun County, Michigan, only three things in life are certain: death, taxes and Johnny Cash running for office in November.
And it's a fact again this year, as this yard sign on Bedford Road illustrates. If you look closely at the sign, you'll see that it's been recycled and reused more than Grandma's bedroom set.
The "Water" in Water Commissioner has been pasted over, and in Cash's case it might have read, in prior campaigns, "Johnny Cash for City Commission," "Johnny Cash for County Commission," "Johnny Cash for Drain Commission" or, allegedly, about any other Commission in the United States except the Warren Commission.
Still, Cash has had terrible luck getting elected. And with a name like Johnny Cash, you'd think he'd be a shoe-in. Doesn't having a name like "Ted Kennedy," "Franklin Roosevelt" or "George Clooney" almost guarantee you a free ride down victory lane? Studies prove it. So why not, "Johnny Cash"?
All of these poor results just show, me, that Cash is not trying hard enough.
He ought to marry a June Carter, get a band together and go on the road, with his "Johnny Cash and June Carter Musical Memories and Campaign Show", performing for folks at the Burnham Brook Senior Center, Springfield Farmers' Market, Kellogg Foundation staff picnic, and the Urbandale Homecoming.
After all, it's not as if he's a boy named Sue.