July 14, 2012
What To Do With That Tattoo?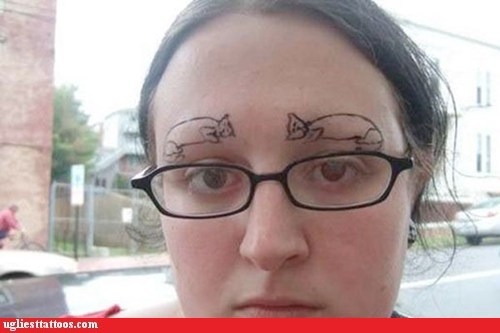 What To Do With That Tattoo?
"Ok, show it to me," she said.
It was a "Welcome Newcomers" Lunch at one of Battle Creek's largest churches.
There were about 120 people attending, to see if they had interest in joining, with efficient, cordial Church staff, plus a tasty buffet lunch.
As ice breaker, the staff handed out square cards that looked like those for a bingo game, except instead of numbers, there was a checkerboard of smaller squares with teasers like: I WENT TO EUROPE THIS YEAR, I AM A TWIN, and I HAVE A TATTOO.
So to get acquainted and relaxed, we had to go around and talk with other people who might fit and could sign each of the little squares.
A nice middle aged lady came up to me, handed me her card and asked if I could fill in any of her blank squares.
"I have a tattoo," I replied, writing my initials across the appropriate box on her card.
"Ok," she asked, without batting an eye or a smile, "Show it to me."
I thought to myself: 'She's no idea where my tattoo is located!'
Still, it was a pretty good bet and icebreaker.
About 25 percent of all Americans, ages 18 to 55, have at least one tattoo.
Of course, about half wish they didn't have one.
If you Google the two words "Tattoo + Regret" you get over a million Internet hits.
I used to sit across from a young guy in meetings. He wore cut off, leather biker tank tops that proudly showed off these elaborate, detailed near 3-D tattoos that covered his arms, fingers, and one whole side of his neck from hairline to collarbone.
He usually had this drop dead, good looking wife with him, who, one day, casually blurted out to the rest of us: "My husband has the most beautiful body in the world!," which I took as reference the body art. (What I really thought was: TOO-MUCH-INFORMATION.)
I'd asked myself: "What is it with this biker guy? The beautiful wife? Is it the tattoos?"
I never found out.
His tattoos have lasted a lot longer than the beautiful wife.
I still run into him occasionally. Back then, he was driving an over-the-road, 18-wheeler.
Now, he's selling used cars, real estate or something else.
He's traded in the leather biker tank tops for pastel dress shirts and pasley patterned ties.
In this hot weather, however, he looks a bit odd with his long sleeved, buttoned up, covered up attire – a bit like Komarovsky, trudging down Moscow streets covered in clothing and a frown, vainly searching for his Lara in the movie Dr. Zhivago.
The neck tattoos are still very visible.
Does he have tattoo regrets?
Maybe not.
If 25 percent of Americans have tattoos, perhaps he's identified and is catering to a new market segment in car or home sales.
Anyway, seems to me "regret" is an often waste-of-time emotion – even when it comes to tattoos.
And, yes, I showed that lady at the Church luncheon my tattoo -- three Chinese characters on my right shoulder, spelling out my first name.
No, I don't have any regrets, either. But that's another story.