August 03, 2012
Clear Election Choices for Important Water Resources Position
Stand out Republican, Democratic Candidates: Mark Jones, Christine Kosmowski
Clear Election Choices for Important Water Resources Position
By Jim Richmond
Near hidden in the weeds of voting decisions at next Tuesday's primary election is one of the least understood in Calhoun County governance and services, yet of major importance to many County residents: election of a Calhoun County Water Resources Commissioner.
The County Water Resources Commissioner and his staff construct and maintain about 500 storm water management systems (County drains) in Calhoun County. These systems provide storm water management, drainage, flood prevention and stream protection for urban and agricultural lands – especially for County land owners outside the incorporated limits of the City of Battle Creek.
There are two Democrats and seven Republicans vying to represent their parties by victory on Tuesday, and then the November primary election faceoff.
Both the Democratic and Republican best qualified candidates are clear: Christine Kosmowski (D) and Mark Jones (R), have strong professional, technical, and relevant career experience.
Kosmowski is a likely winner on the Democratic side, with incumbent Commissioner Larry Cortright facing recent allegations over public intoxication, and questions during candidate forums regarding his job performance.
Kosmowski works as Environmental Programs Coordinator for the City of Battle Creek, with experience in environmental and water evaluation. She earned a master's degree in earth science from Western Michigan University and has been active as a volunteer in area conservation projects and organizations.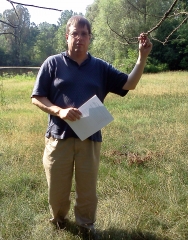 Among the seven Republican candidates, Mark Jones is the demonstrated, best choice. Jones has 20-plus years of civil engineering and project management, including in many of the major duties he would be responsible for as Water Resources Commissioner. He has studied civil engineering at Walla Walla College in Washington State.
Jones has a solid track record of civic leadership in Battle Creek, having chaired Neighborhood Planning Council #4, as well as volunteer service with the Battle Creek Historic District Board, Kingman Museum, Junior Achievement and Kiwanis. He is currently president of Merchant Services of Southwest Michigan

Why has this elected post drawn nine eager candidates? The Water Resources Commissioner has wide discretion and near independent authority in carrying out projects. (The position is also relatively well paid, with an annual salary of $65,000, plus use of a County truck.)
Only limited information is available on the Internet regarding most of the Republican candidates:
Johnny Cash, past volunteer service as City Planning Council Chair and various neighborhood groups in Battle Creek; has run for the position unsuccessfully in the past, holds welding and mechanical repair certificate/two-year degree.
Mark Jones, RECOMMENDED.
Dan Loew, Athens School Board member and East Leroy resident, 25 years farming experience.
Tony Mahoney, no Internet campaign information available.
Travis Piepkow, Lee Township farmer, active in Calhoun County Farm Bureau.
Josh Stults, no Internet campaign information available.
Heath Tichenor, no Internet campaign information available.