August 17, 2012
Memorial Park Cemetery in Battle Creek: Where Care and Caring Really Matter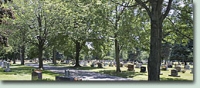 Memorial Park Cemetery in Battle Creek:
Where Care and Caring Really Matter

Motorists navigating the fast paced traffic along Columbia Avenue and Helmer Road have little time to notice the nearby 84 acres and 5 miles of pathways that embrace one of Battle Creek's loveliest and best maintained cemeteries, known as the not-for-profit Memorial Park Cemetery Association.
The Cemetery is unique in the nation for being owned and operated by a service organization, the Battle Creek Kiwanis Club.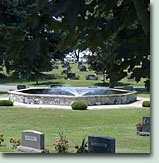 Established as a privately funded cemetery by pioneer funeral home owner and director Andy Hebbel in 1924, Memorial Park was the first "modern" cemetery in Battle Creek, designed in advance, laid out like a subdivision, with careful attention to family plots, pathways, lovely trees, fountains, and even a small lake and an attractive chapel and mausoleum.
Particular attention has been given to maintaining precise records on the people and the graves of the some 23,000 people buried there.
Andy Hebbel and his wife Ester, who had no heirs, donated the cemetery to the Kiwanis Club, which operates the cemetery as a community service.
The Club elects the Cemetery's all volunteer Board of Directors and Club members devote lots of time to seasonal cemetery upkeep and various memorial day efforts.
Jim Talbot, a friendly and engaging person perhaps reflecting his past career as a savings and loan vice president, has been managing the Cemetery since 1991, which has a full-time staff of 5 people, including 3 permanent ground crew workers, plus 4 seasonal workers.
Talbot said the Cemetery is self sustaining from perpetual care, interment rights and service fees.

"We've seen lots of changes in the death care industry in recent decades," Talbot observed. "More baby boomers are deciding on cremation rather than burial. Families are also waiting to hold memorial services til later, when family and friends can gather from out of town. It helps spread out the costs as well."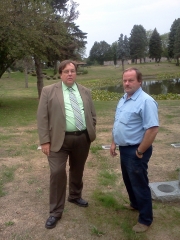 Memorial Park staff members Jim Talbot (left) and Doug Felter.
A grave, full service interment and ground memorial is only about $2,500 at the Cemetery, but Talbot noted that funeral home costs "can add around $6,500" for embalming, casket and other services.
"Cemeteries are all about ritual and a permanent memorial – protecting the dignity and the memory of those who can't protect their own dignity," Talbot said.
Memorial Park Cemetery is maintained in pristine condition by Grounds Manager Doug Felter and his staff, and they are very visible cutting grass, trimming bushes and trees, and handling all the details of burials, which average about one each day at the Cemetery.
Most hours of the day, a few area residents can also be seen walking the Cemetery's meandering pathways. It is, perhaps, one of the most attractive and safe walking areas in greater Battle Creek.
Talbot says the Cemetery doesn't mind the walkers one bit. "We want people to know more about Memorial Park. Individuals pick a cemetery for themselves or loved ones because they know about it, because they have family or friends buried here."
There's plenty of room remaining at Memorial Park – about 50 percent of burial plots have been sold, but only about 20 percent are already used. The Cemetery primarily serves the area encompassing the City of Battle Creek and 5 area townships.
"We want people to know this is all we do. We are here just to serve the people of Battle Creek," Talbot said.
The Cemetery's main entrance and attractive administration center is accessed on Territorial Road.
For more information: http://www.bcmemorialpark.org