August 28, 2012
Laura Davis: Quiet Leader for Downtown's Challenging Rebirth
Laura Davis:
Quiet Leader for Downtown's
Challenging Rebirth
Story and Photo by Jim Richmond
As Battle Creek celebrates its latest downtown improvements, digging through local history revealed quiet leadership by one individual -- 27 years ago – that reshaped and revitalized the center city in a dramatic, profound and lasting way that makes today's modest civic enhancements seem, like, well, comparing a parking lot to a pyramid. And it was a near monumental effort that took patience, fortitude and nearly $90 million.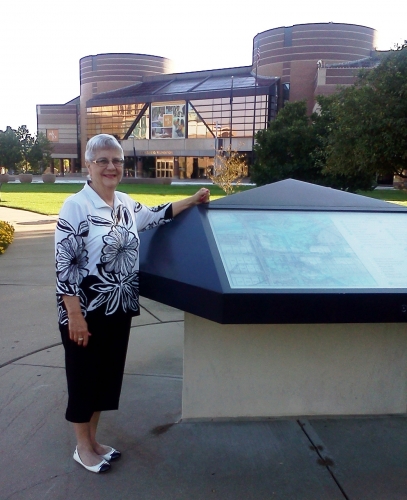 The quiet leader behind it all was Laura A. Davis, who in 1985 was a Vice President of the W. K. Kellogg Foundation, and was asked to meet with then Foundation CEO Russell Mawby.
Davis recalls Mawby saying: "Laura, how would you like to build a building?" She replied: "Russ, I've never built anything."
But Mawby thought Davis had just the right stuff for the job: "I picked Laura because she knew the community, cherished its roots and history, was good with people, planning, thoughtful and thorough," Mawby said in a recent telephone interview.
Davis accepted the challenge of leading a national site search for a new W. K. Kellogg Foundation headquarters, with the Foundation settling on an East Michigan Avenue location in downtown Battle Creek.
"We could have built the headquarters in any community, at any location. But Russ and the Board of Trustees wanted it to be in Battle Creek, and where the project could have most economic development impact in terms of construction jobs, and in terms of the future of the downtown," Davis recalled.
She then coordinated the massive five-year project, which included negotiating purchase of 43 individual downtown properties from owners– many of the properties run down and empty, and only a few with historical value.
The Foundation also paid for the relocation of 14 tenant businesses, and constructed a new Riverwalk Center complex to house some of the tenants.
The new Foundation headquarters building would encompass 213,000 square feet of space on three floors, with an attractive red brick, steel and glass façade.
Davis said the Foundation saw it primarily as an economic development and downtown revitalization effort. "We were guided by the question: 'How can we have the most positive impact on Battle Creek?'"
The Foundation insisted on using local and Michigan architects, lawyers, planners, and construction personnel for all aspects of the project. The Foundation building was furnished with equipment, offices, furniture, kitchen and computers from local and Michigan suppliers.
Davis often spent 16-hour days, for the five years, in her small, cramped portable office near the downtown construction site.
She said she learned a lot, and had to overcome some misperceptions in the mostly male construction business.
Early in the planning, she was the only woman in the room with project architects and a large number of construction contractors present to hear about bidding parameters.
"One of the guys said he could sure use a cup of coffee. So I got up, and casually poured a cup for him," Davis said.
"Boy was he surprised, when the architect then introduced me as the owner's representative!" she continued with a laugh.
Davis is proud she brought the downtown redevelopment effort in "on time and on budget," in spite of the complicated property acquisitions, new building construction, replacement parking lots for the City of Battle Creek, the Riverwalk Centre complex, and a new Mill Race Park.
"Everyone worked together – the Foundation, the City, Cereal City Development Corporation, property owners, history buffs, civic leaders – to make it happen. It showed what a City can do, when you have a positive, can do attitude."
Davis retired from the Kellogg Foundation staff in 1997 after a 33 year career.
'Can do' could be her middle name.
Copyright, 2012, Jim Richmond. All rights reserved.