August 21, 2012
Peace If Not Love In Happy Valley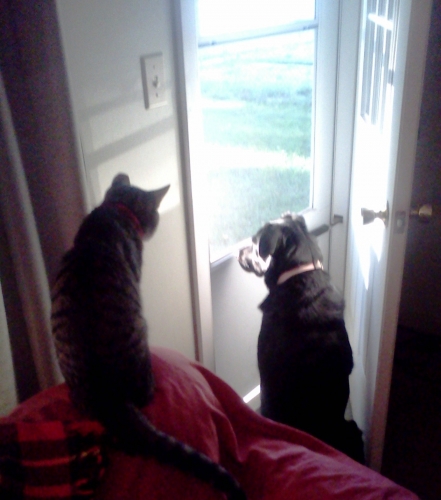 PEACE IF NOT LOVE IN HAPPY VALLEY

This is a 'shout-out' to my friend Laurie Sullivan who provided TRULY expert advice on how to stair-step socialize and acclimate my cat Dinky, with my son's visiting 60 pound Black Lab/Rott, "Paris."

A rather traumatic Paris visit for Dinky six months or so ago, has, so far, been a cake-walk or should I say, cat-walk.

Dinky takes comfort in the no sudden loss of territorial imperative, and realizes keeping peace instead of making war can be fun, even with what instinctively looms as an emotionally oppressive, threatening and intolerable new presence and intrusion in daily life as we know it on Broadway Blvd in Battle Creek, MI, USA.

There is co-existence, stability, neah happiness, this morning, in this little patch of Urbandale.
Who sez we can't learn from our pets?
Now, think I'll take Paris for a walk, and say a prayer for those in Happy Valley.