September 13, 2012
Larry Bridges Loves Being 'On The Road' In Urbandale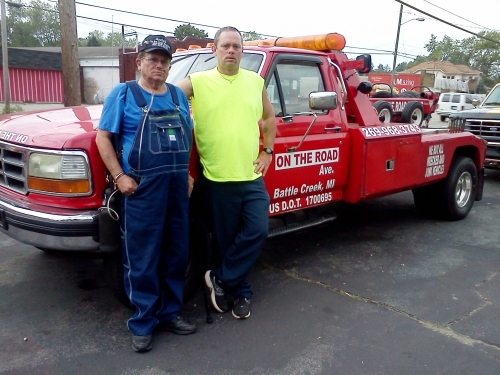 Larry Bridges Loves Being 'On The Road' In Urbandale
I was sitting, waiting for tires to be put on the front end The Respectmobile, at 8 a.m. this morning, chatting it up with Larry Bridges, who recently moved his "On The Road" Towing from Upton Avenue to W. Michigan Avenue in Urbandale.
"Hey, did you see the story on us, front page of today's paper?," he asked. Sure enough. (Below's the link.)

Larry and I ended up talking about City Commissioners, the upcoming election, religion, his marriages, growing up days in rural Kentucky, and the ups and downs of the towing business.

All I know is that if you want HONEST service on a tow....or need tires...or minor service work like an oil change, you can't go wrong by calling Larry or his son Eddie, at On The Road, 269.964.9009, or stopping by 1382 W. Michigan Avenue.

"We love Urbandale. Our business has tripled since we moved here," Larry said.

Here's the link to this morning's newspaper article:
http://www.battlecreekenquirer.com/article/20120912/NEWS01/309120020/Companies-say-city-towing-policy-killing-them?nclick_check=1
Photo Caption: Larry and son Eddie in front of their relocated business on W. Michigan Avenue in Battle Creek, Mi, USA.